After surviving the publication of my first book — which was an incredibly long process — I thought there is no way I can ever write a book with another person.  Nope. Just can't do it.  How can I possibly trust another person to play in my sandbox and not muck up all my plans?  It's bad enough that I've got a editor wanting me to make all of these changes but to have another author with her fingers in my plotting….
That was more than seven years ago and I'm so happy to report that I've changed.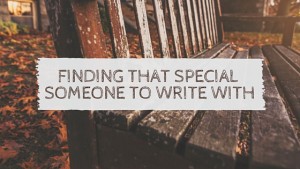 Co-authoring a book, let alone a multi-book series, is not an easy endeavor. Writing a book is a very personal process. You fall in love with your characters — the good guys and the bad guys. You fall in love with the evil things you want to do to your characters.  You love the setting and even the words that fall to the page.
For me, the first step to heading down this path with the lovely Rinda Elliott was trust.  I had to make sure that I trusted Rinda. I had to trust her idea and her skill behind the keyboard.  I had to trust that we had a similar vision for the series and the characters.  And I had to trust that she would love our boys for the Unbreakable Bonds series as much as I did.
Guess what…
She does.
I first fell in love with Rinda's word when I read her Kithra series, when she was writing as Dani Worth. Those beautiful, naughty space operas showed me that she had a great feel for characters and creating an amazing world.  I wanted to play in that world as a writer.  But that just wasn't going to happen.  So I thought we might try the next best thing…
Let's create a world together.
It took a while to get our schedules to match up, but when it did, I happy danced around my living room. I knew I could trust her to love Lucas, Snow, Ian and Rowe. What's more, she was the one to introduce me to Hollis, Jude, and Geoffrey.  (Oh my god… so much love for Geoffrey!)
And I simply can't wait for you to meet everyone in The Unbreakable Bonds Series. The first book — Shiver — comes out on October 27.  Mark your calendar now. And stay tuned for more news.  We'll be revealing the cover very soon.