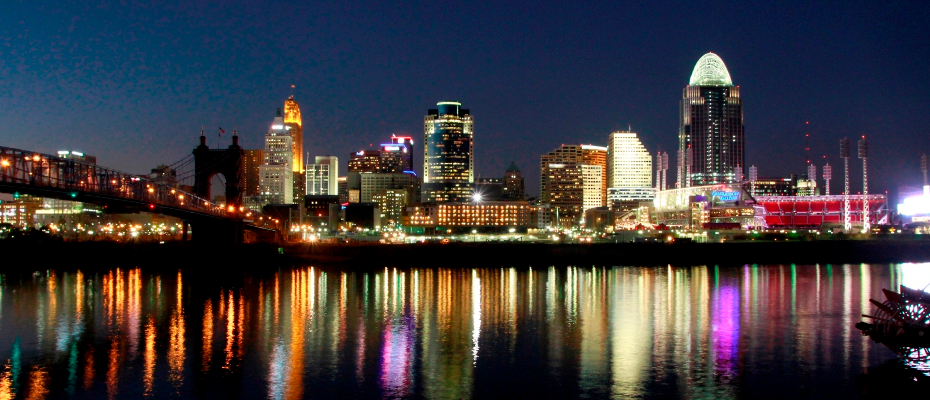 Take a walk with me.
There's something about the place where we're born, the place where we spend those formative childhood and teen years that gets into our blood and we just can't purge it like other places we touch, just kind of passing through.
It becomes more than a pit stop, more than a daydream or a fuzzy memory better forgotten than clarified.
I moved from the Cincinnati area several years ago, but I find my way back almost yearly, usually because of family. And yet, even if family didn't dot the hills surrounding the river valley, I think I'd still give in to the siren call.
After living in what my husband and I affectionately call "The Great White North" and now "The Surface of the Sun" — yes, we're all about extremes — Cincinnati almost feels like its own small country, the way The Vatican is a self-contained country within Italy or tiny Monaco snuggled up against France.
Cincinnatians have their own language — we say "please" when we couldn't hear you and need you to repeat your comment — and our own food — just see goetta.  Cincinnatians have a strange love affair with pigs and fireworks. Cincinnatians have their own southern charm and what my husband refers to as "common courtesy" — you worry about your neighbor and you help any way you can. Cincinnatians can be incredibly slow to change and stubborn to a fault. But we throw some damn good parties. We've got that big-city vibe laced with some southern slow.
When Rinda and I were brainstorming ideas of where to set the Unbreakable Bonds series, I was ecstatic to hear that Rinda liked the idea of setting the series in Cincinnati. I spent decades living in the area and I knew those streets. I knew the restaurants, the festivals, the dangers, the attractions, the silly, and the serious.
Bringing Cincinnati into the series meant that I could infuse a heavy dose of fact into this fiction and it's thrilling. It meant that I could include so many of my old stomping grounds and it would all be real.
That car chase scenes? Yes, you can drive every inch of that. I used real roads I've driven myself (though not at those speeds).
The location of the charity fundraiser? I've wandered those halls on a lazy Saturday afternoon, marveling at the art.
The Ascent where Lucas calls home? Okay, I haven't actually stood in his penthouse, but I regularly had business meetings at an exclusive club nearby and from the windows of the meeting room I was able to watch the construction of the Ascent. So yes, that's real too.
Knowing Cincinnati — her good and bad — it was easy to write Lucas with the same love I have for her. And if I did my job, she becomes a fifth, quiet member to that bond.
If you haven't had a chance to read SHIVER yet, you can order the ebook now on from Amazon, Barnes & Noble, Apple's iBookstore, Kobo, and All Romance ebooks. We will be releasing a print edition very soon. Happy reading!