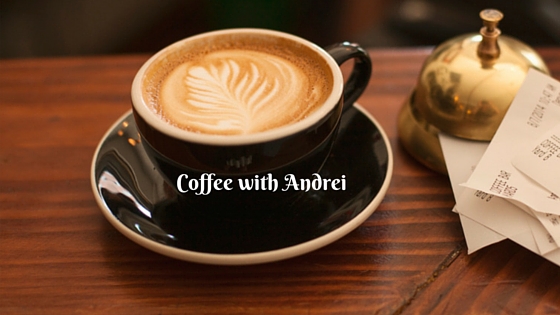 When I'm working on a book or a series, it's important for me to be able to step into the world. I like to walk around to get a feel for it all so I can make the story as real as possible for readers. I like to hear the dialogue in my head as if the characters were sitting next to me. I don't know if it's particularly sane, but I've written several books this way and it works for me.
Today, I am sliding into the Unbreakable Bonds world to interview Andrei Hadeon, bodyguard and employee of Rowe Ward, member of the Big 4. Think of this as a short story that crashes against the fourth wall…
Coffee with Andrei Hadeon
I wanted to hug Andrei and the man hadn't even shown up yet. For our meeting, he chose a small coffee shop tucked in one of the many quiet suburbs that dotted Northern Kentucky. For me, it was a touching reminder of my childhood home. For him, it was likely just a comfortable place for coffee and conversation.
Sipping my latte, the man I was waiting for strolled through the door and paused. Tall and just too sexy for words, he wore a black leather jacket over a dark red waffle Henley that stretched just right over his wide chest. His jeans were comfortable worn with the cuffs folded over black leather boots. Yes, I checked him out from head to toe.  He's gorgeous and I certainly wasn't the only one to notice.
An easy smile tipped up the corners of his mouth when he spotted me. He walked over and pressed a quick kiss to my cheek. "Sorry I'm late."
"No problem. I got to see you make an entrance." I grinned broadly and wagged my eyebrows at him.
"Well, consider it a bonus that you get to watch my ass as I walk over to order coffee."
"I'm a lucky girl," I countered, earning me a snicker as he headed to the counter.
He was back a couple minutes later, dropping into the chair next to me. Placing the cup on the small table at our knees, he slid out of his jacket and draped it over the arm of the chair before returning his attention to me.
"Lucas warned me about you," he announced, reaching for his coffee.
"That's because Lucas is scared of me."  I paused, lifting my coffee cup to my lips for a sip of coffee.  "Are you scared of me?"
"Nope."
"Smart boy.  How are things between you and Lucas?"
Andrei rolled his eyes and flopped back in his chair after setting his coffee on the table. "Fine."
"Sounds like it," I teased and he only glared at me.  "You knew the question was coming."
"We're fine.  Still…just figuring things out.  Nothing unusual."  His voice drifted off and he stared at his coffee, but didn't reach for it again.
"What is it?"
His frown deepened and for a moment I didn't think he was going to answer me, but he did, his voice staying low as if his words were a secret. "Lucas and I haven't talked about that night. He's never told me what happened."
I shifted uncomfortably in my chair. It wasn't what I was expecting us to talk about. But then, I was one of the few people on the earth who knew the events of that night.
"Have you asked him?" I asked when I knew I could keep my voice even.
"No."  Andrei shoved a hand through his long, dark hair, pushing it back from his eyes.  "I haven't…but I think I can guess what happened."
"Are you afraid that if you hear the truth from him that it will destroy what you have?"
Tension cut deeper lines through Andrei's face, aging him more than his twenty-seven years. "No. I don't think it will.  Actually, I don't think it will bother me at all and…and that's what bothers me."  He lifted dark, haunted eyes to my face. "What does it say about me that it doesn't bother me? What kind of a person am I?"
My heart went out to him, but I didn't have an answer. Or rather I didn't have an answer that he would likely find helpful.  Reaching across, I placed my hand over his and squeezed. "That's something you have to come to terms with on your own. I'm just a writer. Not some great moral arbiter of what's right and wrong."
Andrei snorted, some of the sadness leaving his gaze. "That is a total cop out and you know it."
I shrugged. "Yeah, but it works for me."
Propping his right foot on his knee, Andrei relaxed a little more in his chair. "When are you going to get Rinda to visit?  She's nicer than you."
"Soon. She's still playing with Snow."
"Brave woman," he muttered, reaching for his cooling coffee. Yeah, very brave.
"So have you thought about what you're going to give Lucas for Christmas?" I asked only to watch Andrei pale before my eyes.  My laughter echoed loudly through the coffee shop.  God it was fun to play with these boys!
If you want to learn more about Andrei's world and the events of that night, you can read the first book, SHIVER, right now. You can order the ebook now on from Amazon, Barnes & Noble, Apple's iBookstore, Kobo, and All Romance ebooks. We will be releasing a print edition very soon.