Oh my god, I've been evil. Anyone who knows me or has read my books, this shouldn't come as a surprise. Really, I generally embrace my evil author side. I revel in it. But recently, it's been bad. I've got no one to blame but myself. I've planned this since the first word of Shiver and talked Rinda into my insanity. Is it a good idea? Well, sure. But that doesn't mean it's not evil and draining. While we are hard at work on Shatter, I've been taking random breaks to catch my breath.  And that "catching my breath" process has been me mainlining cozy Christmas romance novels (I'll have some reading suggestions soon) and romantic movies.
Don't judge.
Ah! Stop. You know you do the same thing too. (I'm looking right at you, lil judgey face.)
For my blog today, I thought I would provide my list of 5 Go-To Romantic Movies to Lift Your Spirits.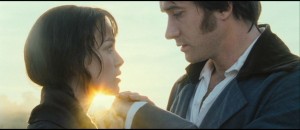 Pride and Prejudice – This is the version with Keira Knightly, Rosamund Pike, and Donald Sutherland. Yes, yes, I keep hearing that the version with Collin Firth is the better version, but I haven't gotten my hot little hands on that version. (It's on my Christmas list and I've been a good girl this year.) I love the sweeping visuals, the period clothes, the acting. I love the music and all the expressions crossing the face of Darcy, how he watches Elizabeth when she's not looking. After getting out of a very long relationship several years ago, I was watching this movie EVERY NIGHT for a while. It's beautiful and warm.  I love the story. The strong woman and the strong but socially awkward man, both with assumptions and misunderstandings. Both learning to admit they were wrong so they could come together in love. Love it.
My Big Fat Greek Wedding – I love this one because it's about a woman finding her own footing in the world and finding love while dealing with a loud, nosy but loving family. I don't have a particularly ethnic family (unless you count somewhat hillbilly) but they can definitely be loud and nosy and intrusive and overwhelming when they are all in one place with food and alcohol flowing liberally. I love the fact that she falls for a man who is willing to do whatever it takes for her to be happy, which also mean keeping her family happy. It's about opening your heart and taking a chance on something totally new and little frightening.
Dorfman in Love – This is a brand new edition to my list. I discovered it on Netflix just a couple months ago and I've already re-watched it twice. It doesn't have any mega-A-List stars, but the acting was very solid and the characters are fun. It's about a woman who is bending over backwards to get a man she's crushed on forever to notice her. But in her quest to please him, she starts to step out and gain confidence in herself with some help from some unexpected people. Sure, it's got the trite make-over, but there is a nugget of truth to it. There are times when you put on a new outfit or get a new hair cut and you just feel better about yourself, you're suddenly more adventurous, ready to take a risk or two. It's like that haircut or outfit has become a suit of armor and shield, protection against the unknown. And if you're lucky, you learn that it's not the haircut or the outfit, but what's inside that succeeds when you step out of your comfort zone. The heroine changes from this doormat character to a strong, vibrant person and she finds love with someone who appreciates her for her strength and not for what she can do for him. If you haven't checked it out, go add it to your list on Netflix now.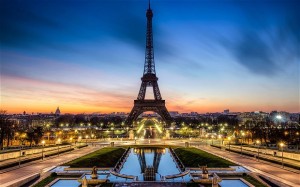 French Kiss – A romantic comedy about a woman who is jilted by her fiance. She chases him to France, scheming to win him back with the help of a thief. I've got to admit this movie is all about Kevin Kline for me. I love him as a scheming, devious, quirky jewel thief with a soft heart and a plan for another, better life. Of course, it doesn't hurt that part of the movie is set in Paris and I just love Paris. I was lucky enough to go there as a teenager and I keep dreaming of returning one day. It's a nice stroll down memory lane. All in all, it's just a fun movie.
Love Actually – Oh the feels! I didn't mean to include two Keira Knightly movies, but hey, that's just how it rolls sometimes. It also doesn't hurt that it's a holiday movie. But yeah, I'm one of those. I love the bittersweetness of the movie. I love the romances that work in all their quirkiness. I cry about the ones that don't and the sacrifices that are made. I love the difficulties and the realness of it. No matter how hard we try, sometimes love doesn't work and the people we love fall short. And sometimes the most important people in our lives aren't the ones we didn't expected. But my favorite is the writer and the housekeeper who fall in love without being able to communicate. LOVE!
So that's my list. It's far from complete, but it's a great start. What movies are on your list of go-to romances? What movies would you suggest for the hopeless romantic? Do you love the tragic? The funny? The super sweet?
And if you haven't given our new book, Shiver, a try yet, you can catch up on the background of the series as well as read a couple free short stories here at Unbreakable Bonds.