I don't go out much. I don't like to travel far from my computer. It's my safe zone. It's my strength, you know… the written word. No one wants to actually see me. (This is my theory.) They want my butt in a chair writing more books. I've never been big on scheduling appearances. I'm too much of an introvert.
But I do have one appearance scheduled for 2016: Coastal Magic Convention in Daytona, Florida from February 4 through 7. I do believe registration is still open but it will close soon. If you can't make it for the full conference, there is a free, open to the public book signing on Saturday, February 6. (To see the full list of authors who will be at the signing, click here.)
My schedule includes: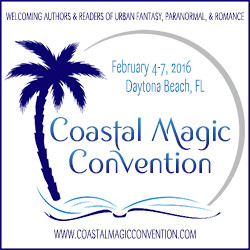 Thursday, February 4
5:30pm – 7:00pm
Author / Blogger Mingle – Special "ice breaker" mingle for our Featured Authors and all registered bloggers.
I'm not scheduled for this but I'll like check out this with my husband:
8:00pm – 10:30pm
Cinema Craptastique: Movie Title TBD – Join our evening's emcee, Damon Suede, in live tweeting an entertaining, yet thoroughly snarkworthy movie. A Coastal Magic original, we've trended nationally for the last two years on movie night! Damon Suede, Jade Lee, Amy Lane, Tere Michaels, Mari Mancusi, Sean Michael, B A Tortuga, Julia Talbot, Hildie McQueen, Eric R Asher – and more!!
Friday, February 5
9:00am – 10:00am
Worldbuilding: Locations/Settings – The benefits and drawbacks of using real location in stories, versus creating a fictional place. Do readers like having a "real place" reference, or is somewhere new more interesting? Does the setting help to create diversity in the story?Carrie Ann Ryan, Kristen Painter, Jocelynn Drake, Nancy Northcott, Deborah Blake, S E Smith
3:30pm – 4:30pm
Improv Flash Fiction: Fast paced and quick witted, authors create stories in real time, "round robin" style, using prompts from the audience. Always outrageous, and always hysterical. Damon Suede, Amy Lane, Lucienne Diver, Jade Lee, Brynn Myers, Jocelynn Drake, Kiernan Kelly, Lisa Kessler
9:00pm – 1:00am
2016 Coastal Magic Mixer: Day of the Dead theme! This is our "party night". We'll have music and a dancefloor, face painting (no charge, but will welcome cash donation), and a FREE photo booth to capture memories from the evening. Perfect for everyone, whether you want to let loose, or just chill with friends. Cash bar will be available.
Saturday, February 6
9:00am – 10:00am
To Kill, Or Not To Kill: Balancing the body count in Urban Fantasy. Authors discuss making the choice between taking that "final blow", or not. How do these choices effect the characters and the story? Jocelynn Drake, Eric R Asher, Dianna Love, Jennifer Estep, J A Souders, Nancy Holzner
3:30pm – 4:30pm
Meet & Greet: Urban Fantasy (Theme coming soon) Jennifer Estep, Nancy Holzner, Charlie Cochet, Jocelynn Drake, Dianna Love, Eric R Asher, Lucienne Diver, Dina Given, H D Smith
5:30pm – 7:30pm
Public Book Sale / Signing – All Featured Authors will participate, along with additional "signing only" authors. You can see the full list on the Charity Book Signing page. All attendees welcome – also open to the public. PLEASE NOTE: Limit of 3 books brought from home for authors to sign. Please consider purchasing additional books from our authors directly, and/or our on-site bookseller.
I will continue to sweet talk Rinda and see if she'll let me make some Shatter-related announcements at the Coastal Magic Convention. I will have some copies of Shiver on hand. We don't currently have any other appearances scheduled, but we will keep you updated if that should change.