SHATTER cover coming. New Facebook Group. Recent good books. And more!
This is my writing partner, Saber. I had to make that bed next to my desk in my office so he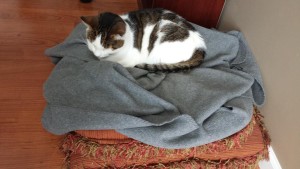 wouldn't try to sit in my lap. He's not really much help with the books and he's getting older and mouthy as hell. But I love the annoying little creature and have ever since we found him as a baby, crying in the woods in North Carolina. We were on a family trip and drove all the way back to Oklahoma with this freaked-out kitten. That was thirteen years ago!
In writing news, we are still hard at work on SHATTER. We have pre-orders set up and next Wednesday is the big cover reveal day. (It's soooo beautiful!!!) There are a bunch of blogs joining the fun and we'll post them that day because we picked three different snippets and shared them among the blogs. You'll be able to do a little treasure hunt to get them all.
Jocelynn and I also started a private group on Facebook that we're excited about. It's called Drake and Elliott's Unbreakable Readers! It's a one-stop place for all fans of Unbreakable Bonds to keep up with our news. We'll post links to new blog posts, but we'll also hang out, share surprise snippets or images that inspired scenes and more. Readers will be able to post, too! We love hearing about favorite lines, scene, things loved about SHIVER and more. And, of course, images of people who remind readers of our characters will be welcome. We want it to be a safe, friendly place to just have fun and talk sexy books! To join, go here.
Last but not least, we do love to share about books we've enjoyed recently. I just read SHIFTING GEARS by Riley Hart. It's very sexy and the love story is just wonderful! It's book two in her Crossroads series and I really enjoyed the first book, too. CROSSROADS is a double gay for you–my very favorite kind of love story. Check out her books! CROSSROADS and SHIFTING GEARS.