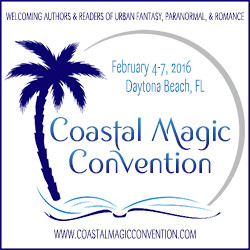 Tomorrow kicks off the Coastal Magic Conference in Daytona, Florida. It's just a short drive up the coast for me and I'm dragging my husband along for company. This is my first appearance at this conference and I'm excited! I've got a stack of print copies of Shiver as well as some bookmarks and whatever other goodies I can dig up. (Yes, I'm not even close to done packing yet!)
I might also have a copy of the cover for Shatter cover on my phone. If you happy to find me and ask very nicely, I might be willing to flash you. (But seriously, don't tell Rinda. She thinks I can keep a secret.)
If you're attending the conference, click here to see my schedule. Please stop by and see me. I'm likely to spill secrets for caffeine and chocolate.
And if you can't make the conference, but you're not far from Daytona, please stop by on Saturday for the book signing. It is free and open to the public! For more information, click here.
I know a handful of the authors who are going to be there, but it's not going to be my usual crew of friends, which has me nervous. My lovely friends who I've been seeing at conference for many years give me a safety zone to be my geeky little self.
My little introvert butt doesn't get out from behind my desk much, interacting with the world. In fact, this is my only scheduled appearance for 2016. However, if RT has a cool place lined up for 2017, I might be up for dragging Rinda out for a joint appearance next year. (Shhh… don't tell her that either.)
Adding to my nerves is that a few new-to-me authors are going to be there. I've recently discovered that I adore their books and I'm terrified that I'm going to fan girl. (Not the whole blubbering, squealing mess, but more of the nothing coherent is coming out of my mouth and I look like an idiot mess.) I'll keep you updated on how that goes.
Speaking of which, I promise that I'll be taking pictures and posting notes on social media during the conference. So stay tuned to the blog and the usual social media channels.
So, what we've learned from this blog post is that Rinda is likely to not let me go to conferences without her ever again because I can't be trusted.  But that's ok. I have more fun when she's giggling next to me about the dirty things we need to write.
Before I dive back into packing, I've got to ask an important question: Have you pre-ordered Shatter yet? Seriously, you loved Shiver with Lucas and Andrei. Now you need to know the hell we're putting Snow through. Go ahead, click here.