This past weekend was a whirlwind of activity. I chatted with fabulous readers, brilliant bloggers, and some simply amazing authors. 98% of the time I am locked behind my computer, churning out words for books. There's a little socializing going on via Twitter and Facebook with the occasional email here and there (Except for Rinda, we send lots and lots of emails, texts, tweets, and phone calls but those are all awesome).
It's a different feel to actually look into a person's eyes and read their body language as they're chatting with you. You see their enthusiasm and their kindness, which doesn't come across in a quick email. I'm always so nervous about going to conferences, and this one in particular since I didn't know any of the authors when I arrived.
But I fixed that fast!
So let's do a quick rundown of the awesome that I encountered while at Coastal Magic. I know I'm going to forget people and I've very sorry. It was insane and fun and extremely busy while remaining laid back.
Quick Thoughts:
First, a big thank you to Jackie Morgan (of Literary Escapism) and Chelle Olsen (Literal Addiction) for taking such good care of me. There were big spans of time at the start where I looked like a lost puppy. They both took me in and introduced me to awesome peeps.
Amy Lane is the funniest, sweetest lady I've met in a long time. I love her books and I love her great advice regarding the industry and tackling this new-to-me genre. I can't wait to see her again! I hope that she finally found chocolate. There was a definite shortage.
Eric Asher has a higher body count than me! Saturday morning started with a killer panel called: To Kill or Not To Kill, where the paranormal authors talked about the body count in our books, the impact of killing characters, and how we chose whether someone needed to die. Eric's series is now on my To Be Read list. He was also at my table for the reader lunch and we had a great time. We even swapped tales of our ultimate "fan girl" moments.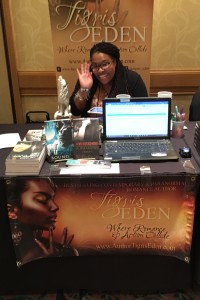 Charlie Cochet is a sweetheart. I know she looks it, but you know what? She totally is in real life. I think I saw glimpses of a potential evil streak, but she hides it well. She also provided me with great industry info, told me about her killer Third series, and was just a blast to talk to.
Chudney Thomas sat opposite me the last dinner of the conference and even though we were both so exhausted from the long day, we had a great conversation. Thanks so much! I had a lovely evening and I can't wait to see her at next year's Coastal Magic. Go check out Chudney's books! She's a lovely, brilliant lady.
Damon Suede…. Damon, Damon, Damon….what can I say? He is evil and yet I think he's become one of my favorite people. If you didn't catch the Improv Flash Fiction, just go watch it now. (Part 1. Part 2. Part 3.) This man is simply amazing. He's a killer storyteller, funny, evil, and sweet. I'm so glad that I was seated next to him at the panel and I can't wait to attend a conference with him again.
Jade Lee and Brynn Myers, I want to say "Congratulations! You survived the Flash Fiction!" We were the virgins on the panel and both these ladies were fabulous. Both authors were fun and hilarious. Again, go check out the video links above.
Tigris Eden sat next to me at the book signing and she was kind enough to include me in a dinner for a giveaway winner. Tigris is another amazing, fun woman. I love the story of how she met her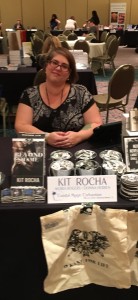 husband and we just had so much fun talking at the signing and dinner.
Andrew Grey made me feel like we were long-lost friends the moment I met him. You have to instantly love anyone who can do that. Thank you so much! I love the hugs and the conversation. I hope he had a wonderful conference and I'm so glad that we met.
Poppy Dennison was a ray of sunshine, which was pretty impressive because it was late in the day and I think everyone was just starting to drag. We were seated next to each other at the signing and I'm glad so many authors were making sure we chatted. Poppy is a fountain of great information and I can't wait to test it all out!
I want to give one last shout out to Kit Rocha for commiserating about the trials of putting on and removing make-up. Really … authors love to meet with readers but we hate the whole thing of where we are expected to brush our hair, put on pants, and apply make-up. In general, we're just not fit to be around normal people, but she is just a fun person.
There were so many more amazing people that I met but this blog post is already getting a big long. Let me just say that I think Coastal Magic is now my favorite convention. It has amazing authors, it is well organized, relaxed, and just so much fun. I am already planning to return in 2017 and I really hope that you will check it out as well. If you are thinking about attending a conference to see some of your favorite authors, please put Coastal Magic on your list. It really was fabulous and there are worse places to be in February than Florida.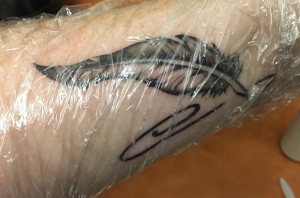 Oh and before I forget… my husband and I did manage to make one trip away from the conference just long enough for us both to get new tattoos. I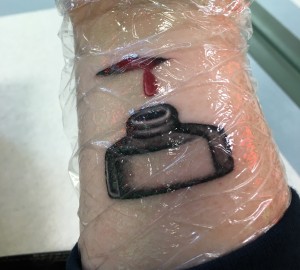 don't have a pic currently of his, but I finally got the tattoos on my forearms that I've been dying for. I think Gage (from the Asylum Tales would approve). Since I'm left handed, the quill is on my left forearm and the ink well is on my right forearm. As you'll notice, the pics have me wrapped in plastic. Yes, this was taken fresh from the tattoo parlor. I'm a little itchy now but so in love with my new ink.