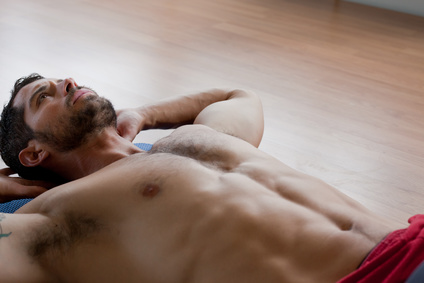 Our actual inspiration for Jude Torres can often be found on our Tumblr! Like HERE! (Love that one!) Follow for sexy updates.
There's nothing more important to Jude than family. Though he no longer lives at home with his single mother and youngest brother, Jordan, he rents a small, studio apartment cheaply so he can still help her with the bills. He heads to the small home he grew up in, which is located in one of the rougher suburbs of Cincinnati, for weekly meals. Those usually include his other younger brother, Carrick, as well as different aunts and uncles from both sides of his huge half Spanish, half Greek family.
He always wanted to be a paramedic—ever since he watched them come to help his grandmother and calm her family down when he was a kid. He truly cares about people and he's good in a crisis—able to take over and do what needs to be done no matter how rough the situation. He's muscular, strong, and he became that way to better defend himself growing up gay in his neighborhood. But his laid back personality and casual acceptance of who he is helped a lot in that respect. He's only recently started at The University of Cincinnati Medical Center and loves the job. Rebecca, his ambulance partner, is already a good friend, one who often joins him for those family meals.
He hopes for a picket fence of his own someday, so he should be able to ignore his fierce attraction to Dr. Ashton Frost–who is far from the picket fence type–but he can't. He wants to put the moody, arrogant man up against a wall so badly, he's ready to bust. His dominant-in-the-bedroom personality trait has brought him trouble with boyfriends in the past but something tells him Snow can handle it. So he pursues him with the same tenacity he does everything else he wants.
And he gets him. But Jude is not prepared for the darkness a relationship with Snow brings to his world. He'll have to decide if the sexy doctor is worth it.
You'll be meeting Jude in SHATTER, which comes out April 26th! It's up for pre-order now. Here's a fun teaser you can share! Click on it to bring it up full size.