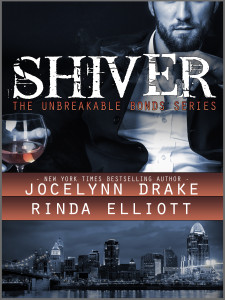 Indie publishing has giving me a lot of new and interesting experiences. One of the biggest changes comes in the form of cover control. Whether you know it or not, most authors who publish through a big publisher don't have a lot of control over what their cover looks like. In the past, my editor would ask if I had any ideas and she would pass along any suggestions to the art department, marketing, and sales. At that point, they would mull it over and decide whether to use any of my suggestions or move in a totally different direction. When I saw the cover, it was usually at the final stage and if I didn't like it … well, there wasn't much that could be done.
Now, that being said, I have loved all my covers from both the Dark Days series and the Asylum Tales. I've been incredibly lucky.
But when it comes to the Unbreakable Bonds series, the cover look and style was largely in my lap and Rinda's. We search through tons of book covers, making notes on the things that we liked and what we didn't like. Then we started searching for pictures that would capture the feel of the actions and characters of the Unbreakable Bonds series.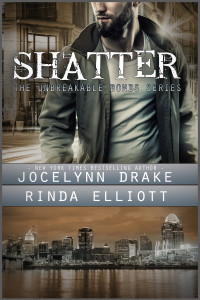 From there, I turned to the one person who has helped me with website and all kinds of insane graphics. Really, he's a genius when it comes to the inner workings of Photoshop. I contacted Stephen Drake with Design by Drake. (Yeah, he's my brother but that wasn't a reason to use him for the cover. I mean, it's the cover! Your first impression! It had to be great.)
With Shiver, we settled on the pictures pretty darn fast, but we worked through several version of the cover, tweaking colors, spacing, and the fonts.  We crowd-sourced the cover to several friends, asking for their favorites. And their opinions came down to one of two final versions. From there, Rinda and I made the final call. I've got to say that I'm very happy with the result.
With Shatter, it took us quite a long time to find the picture that we liked. Shiver's picture really captured Lucas's arrogance and confidence, though I won't say the model is supposed to be Lucas. I look at it more as a representation of the mood. Shatter is definitely different. I think this image appealed to me because this book has more of a feeling of being on the run or being hunted.
While Rinda and I are putting the finishing touches on Shatter, which is due out April 26, I have Stephen working on the cover for a side project for me that I hope to have out in the summer. I don't have any sneak peeks to reveal just yet, but it is me going back to m/f paranormal romance. And then after he's done with that cover, we'll be switching gears to brainstorm Book 3 of Unbreakable Bonds.