It's almost time! We are less than a month away from the release of Shatter, Book 2 of the Unbreakable Bonds series. Are you ready to get a whole lot closer to the damaged Dr. Frost? Would you like to get a sneak peek at Lucas and Andrei's relationship? After the ending of Shiver, do you think they're going to be able to make it work?
Rinda and I are definitely getting excited. We've done our final read through on the book and it's going out to reviewers.  We've lined of up our blog tour and we're picking the first snippets that we're going to release throughout April.
As Rinda and I get everything prepped for the release, I think it's also important to have a reader's guide to help you prepare for Shatter.
Guide to Prepare for Shatter
Step 1. Have you read Shiver?  You know, it is helpful to read the first book. Now, Snow's book can be read as a stand-alone, but you know that you want to get all the good dirt on millionaire Lucas Vallois and his bodyguard Andrei Hadeon. This still time to catch up!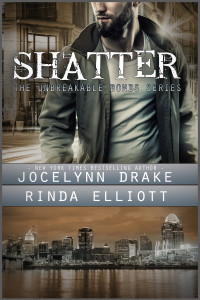 Step 2. Look at pictures of the models who inspired Lucas, Andrei, Snow, Jude and all the boys. Here is a link to our Tumblr page. Yeah, Rinda finds some really great pictures. And in case you're wondering, Andrei is MINE.
Step 3. Read the free short stories. To help you pass the time between books, we have released three free short stories that follow Lucas and Andrei's relationship after the events of Shiver. The short stories are:
And don't worry. We will have a few short stories for Snow after the release of Shatter to help hold you over until the release of the third book.
Step 4. Pre-order your copy of Shatter. You don't want to miss one second of reading. You can pre-order your copy of Shatter so that it's immediately downloaded onto your e-reader on April 26. We will also be releasing physical copies of Shatter shortly after the release of the e-book.
Step 5. You know, it's been two whole steps since you last look at those pictures of Lucas and the boys. Maybe it's a good idea to go back to the Tumblr page again.
Step 6. Join the Unbreakable Readers Facebook group. This is our official group where you will be able to discuss the events of the Unbreakable Bonds series with other readers. Rinda and I have also posted an exclusive sneak peek of Shatter here as well as announced the title of Book 3. Click here to join the group now! Rinda and I are on the group frequently, giving hints and secrets. Don't miss out!