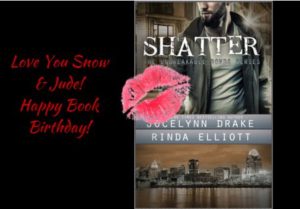 It's release day for Shatter, Book 2 of the Unbreakable Bonds series, and we are so excited!
Check your e-reader. If you pre-ordered the book, it should be sitting there, waiting for you. And you don't want to miss out on Snow and Jude's adventure in Cincinnati.
Here is a quick description of Shatter:
Maverick trauma surgeon Ashton "Snow" Frost keeps the world at a distance, relying only on his three closest friends to keep him connected. But when a ghost from their past returns to Cincinnati, Snow stands to lose everyone he loves. Framed for murder and reeling from attacks on his friends, Snow is pushed to his breaking point.

Jude Torres won't let the doc shatter. The paramedic has been attracted to the doctor since he first laid eyes on him at the hospital, even if the arrogant, solitary man doesn't fit into any of his plans. One hot, reckless kiss shows that Snow isn't who he appears to be. And one night together will never be enough. Jude will fight for the doc.

Fight to keep him whole. Fight to keep him safe. Fight to simply keep him.

Unbreakable Bonds.
If you've been on the fence about picking up a copy, here are some early comments from reviewers: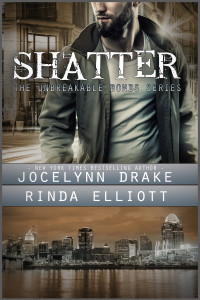 "I absolutely loved this book. Snow and Jude were everything I hoped they would be and more. Jude is the exactly what Snow needs and I adored watching these two strong men fall for each other. It was incredibly sexy, emotional, and kept me flipping the pages."
—Riley Hart, Author of the Crossroads Series
"This is a 5+ star read… This is about as close to perfection as they come for me."
"For Shatter the authors took: a great suspense story, an ERMERGERD sexy-alpha-male-getting-dominated romance, and a heartwarming friendship story, and dropped them in a blender… creating a sexy smoothie with bite. Yum!"
"I really liked reading Shatter I can certainly rave over Jude for ages and how he and Snow meshed. I also liked watching the interplay between the characters because one of the things I love is when the main characters have close relationships outside of their romantic interest. In this particular series I don't think any of the main group of friends would still be living without the others. I really hope Drake and Elliott can write quickly because I NEED to see what happens next."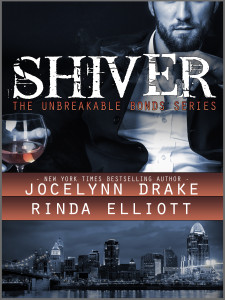 Now is a great time to start this series! You can read both Shiver,  the free short stories that follow Lucas and Andrei, and then read Shatter.
And don't worry; we will be putting out a few free short stories for Snow a little later this spring.
Now matter how many books I've written, each book from beginning to end is a roller coaster. You go through period of excitement, because you can see the plot unfolding and the characters reacting to events. Then you're whipped around and left wondering how in the world you're going to get that scene written because things are suddenly not working out how you envisioned and the characters are arguing with you and your co-author is pretty confident that you've lost your mind. And then … it's just suddenly done. You're exhilarated and breathless and excited and a little queasy… and so ready to do it all over again.
Yeah… Rinda and I are hard at work on Book 3. More news to come.
So don't wait. Click here to order your copy of Shatter now. It's available as an ebook and print. You can also click here to order your copy of Shiver if you haven't read that book yet either. Happy release day!