We are now less than three weeks away from the release of Shatter. Rinda and I are getting excited. Readers are getting excited. Reviewers are definitely excited if you look at some of the early reviews that have been posted so far.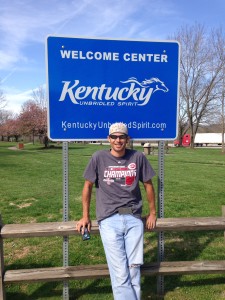 With that in mind, I thought I would take you on a personal tour of Cincinnati. While it is the home of Lucas, Snow, Ian, and Rowe, I have to admit that Cincinnati was also my home for many, many years. (We definitely don't need to go into how many.) But for me, any tour of Cincinnati actually starts in Kentucky. (I know, I know… you're already thinking that you can't trust me because you know that Cincinnati is actually in Ohio, but I'll get there.) While I consider myself a Cincinnatian, I am technically a Kentucky girl first. Both my husband and I were born and raised in Northern Kentucky. As such, we were never more than a hop, skip and a jump from downtown Cincinnati. All that ever separated us was a river. On any given day, you were just as likely to be in Kentucky as you were in Ohio when you were shopping, working, or just looking for a bit of fun. It was common to have friends living on both sides of the river, as you have with Lucas and the boys. (At the start of Shatter, Lucas is living in Northern Kentucky, while Ian, Rowe, and Snow are in the various townships surrounding downtown Cincinnati in Ohio.)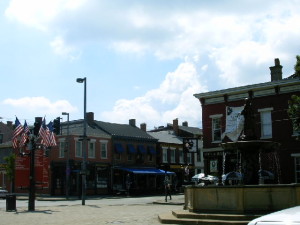 One spot that comes up Shatter is an area in Northern Kentucky called the MainStrasse Village (aka The Village). It is a quaint little spot that is heavily lined with bars and restaurants with a few little shops and tattoo parlors thrown in for fun. It's a fun place to go bar hopping, hear some live music, eat some good food, and always, always run into some people that you know. I have never managed to get through that area without my husband knowing someone there. And the boys from the Unbreakable Bonds make a quick pass through this area. However, if you are recalling The Laundry Room from Shiver, it's not in his part of town. We placed that across the river in Over-the-Rhine, which is in Cincinnati. The fountain in the foreground of the picture is of the Goose Girl. I'll admit that I haven't a clue as to why MainStrasse has a fountain with a bronze girl holding a pair of geese, but just look at it as another bit of charm for this unique area.
Well, I'll admit that I was going to continue the tour through a few other places, including a couple places on my wish list, but freaking wordpress is pissing me of by refusing to accept certain pics for no apparent reason. If I can figure it out, I'll post more.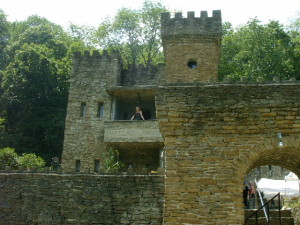 But I do have one picture that WordPress didn't fight me over. It's not in Shiver or Shatter, but I am hoping to talk Rinda into including in one of the future books… though I don't know where yet. Cincinnati actually has a castle. Yep. It's often referred to as Loveland Castle since it's located in Loveland, Ohio. But I believe it's formal name is Chateau La Roche. It was made slowly over many decades entirely out of river rocks and was largely constructed by one man. It was pretty big, particularly since it was built by one man. If you look closely at the picture, that lass up on yon balcony is me. (Well, me many many many years ago.)
Putting the Unbreakable Bonds series in Cincinnati has meant that I get to take readers to some of my favorite haunts around the region. Cincinnati is one of the mid-sized cities that manages to few a little bit big and little bit small. Downtown, you can find great food, great performances, and great art. And you drive less than a half hour out of the city, and you're deep in rolling hills and farmland.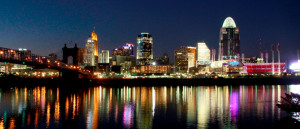 There's beauty tucked in the hills of Cincinnati as well as ugliness. We have definitely not tried to whitewash this city, but show you her many sides, and hopefully make her as much a character in the book as the boys.
I hope that you've enjoyed this little tour of the place that the boys of Unbreakable Bonds call home. I am hoping to make a trip back to the Queen City some time this year and I'll take many more places, particularly of the regions that we've already mentioned in the book. And I'll be back to take you on another tour of the city.
And don't forget, it's not too late to grab your copy of Shiver or to pre-order Shatter!  You can also catch up on the free short stories here.