It might be a little hard to believe, but even after Rinda and I finish a book in the Unbreakable Bonds series, it's a little hard to walk away from the characters. Even after the danger has faded and the characters have found someone to risk their hearts on, you want to stay with them, hear their little stories.  And we've got to admit that we've had some fun short stories dancing through our heads.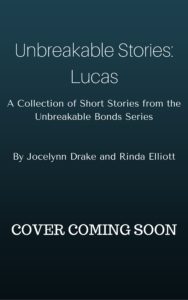 We would like to share these fun tales with readers so we've decided to pull together a collection of short stories. The collection will be titled:
Unbreakable Stories: Lucas
As you may have guessed from this title, the stories in this collection will focus on Lucas and Andrei. The stories will all be set between the events of book 1, Shiver, and book 2, Shatter.
The collection will have at least six short stories. It will include special Author's Editions of the previously released free short stories. (And don't worry, the original versions of the free short stories will continue to be available here.) The collection will also include at least 3 brand new, never-seen-before short stories. Maybe more… We haven't decided yet all the components of the book. At a minimum, the book will be approximately 30,000 words. In other words, a lazy afternoon read.
While the short stories will focus on Lucas and Andrei, all the guys from the series will make an appearance within the collection. And if readers enjoy this collection, we will consider continuing and putting out a collection for Snow and Jude after the release of Torch, book 3.
To pre-order your copy of Unbreakable Stories: Lucas, click here. It will be available on Amazon Kindle on Tuesday, June 21.
And stay tuned for more goodness such as…
The first free short story featuring Snow and Jude will be released in May.
We will also have more details regarding Torch, the third book of the Unbreakable Bonds series in June.