Did you have a fabulous Memorial Day weekend? I was lucky and had three days to essentially do nothing. I wasn't on an insane deadline where I owe 10 people 20 different things. I didn't have made errands to run or other insanity.  I could spend this weekend just relaxing. (I haven't had one of those in a while and I'm sorely out of relaxing practice.)
So what did I do?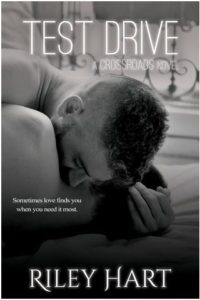 I read books. I haven't allowed myself to read anything new in a while. I'm a binge reader. In other words, I prefer to read a book in a single sitting. I don't have the willpower to pick up a book, read a couple chapters, and then walk away. Nope. Hate doing that. If I'm going to read a book, I want to sink deep into its cool, murky depths and get lost with the characters for HOURS on end. (Thank goodness I managed to marry someone who understands that about me.)
This past weekend I read:
Yeah, sometimes it's good to know people and be an author so you can swap books. I got my sticky fingers on this book a few days early and it was awesome. Test Drive is part of the Crossroads series. And I simply fell in love with the first book (I seriously love me some Bryce and Nick.) I've been happy to follow the series and Test Drive is the third installment. And it is just as awesome as the others. This book dealt with some difficult issues and I think that Riley handled it beautifully, balancing the dark with the light, and sadness with the humor.
Test Drive can be read as a stand-alone, but many characters from the other two books appear in Test Drive. In short, you know you're going to get a much fuller reading experience if you pick up Crossroads and Shifting Gears as well.
(On Goodreads, this was a 5 Star for me.)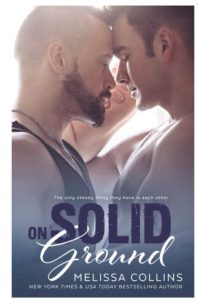 On Solid Ground by Melissa Collins
I'll admit that I have a weakness for Bookbub. I love that wonderful daily email that lists some great ebooks deals in some of my favorite genres. As a result, I've picked up soooooo many new books to try. The problem is (other than my steadily shrinking bank account) is that I know have over 70 new, unread books on my Kindle. When I go searching for a new book to read, I can't remember why I picked up a book or what the book description was.
When I started On Solid Ground, it was a bit of a leap of faith. I had no idea what I was getting into. But I'm so glad I tried it. On Solid Ground is about a solider back from war, dealing with PTSD as well as trying to figure out who he is and what he wants out of life. Then he meets a sexy tattoo artist, who has his own dark and heavy backstory.
And … oh yum. There was sexiness and drama and action and heartbreak that left you wanting to shake them both. Such a good book and I see that it's part of a series, so I will be back for the next one.
(On Goodreads, this was a 4 Star for me.)
First, I love the cover. Much congrats to the artist. It is a beautiful cover.
This is one of those rare books that I had to put down and circle back around to. Not because it's a poorly written book. No, it's a brilliant book. However, it is an incredibly heavy subject matter and I needed to be mentally prepared to jump down that rabbit hole.
And even knowing what I was getting into… I wasn't ready. It's a love story. A boy meets boy story. Unfortunately, one of those boys is bipolar. The author was spot on. The accuracy was stunning as it was painful. She deftly handled the topic from both the point of view of the sufferer and the outsider trying to help.
The book was heavy and painful and gripping and beautiful. I'm glad that I read it. There's so much more that I'd like to say about this book, but … I think that's something for another day.
Read it. Particularly if someone you know suffers from a mental illness. Broken can be eye-opening.
(On Goodreads, this was a 5 Star for me.)
As you can see, three very heavy reads for me. I'm fighting through the aftershocks now and looking for something light and fluffy to buoy me. That means I've been leaning heavily on my dealer (aka Rinda) for something happy to read.  I'll also take suggestions here.
Happy reading!