Since we released the first book of the Unbreakable Bonds series in October 2015, I have to admit that Torch is the book that has been the most shrouded in mystery. Some of it has been intentional and some of it not. There was an important, life-changing event that occurred in Shatter that we didn't want to ruin for new readers of the series, so we tried to keep things quiet for a long time.
But the time has come to share some secrets at last…
You've watched a self-made millionaire fall in love while trying to track down who was threatening both a business deal and his life.
You've followed close on the heels of a maverick surgeon as he chased after a ghost from his past while finally coming to accept that he is deserving of love.
And now, you've got TORCH….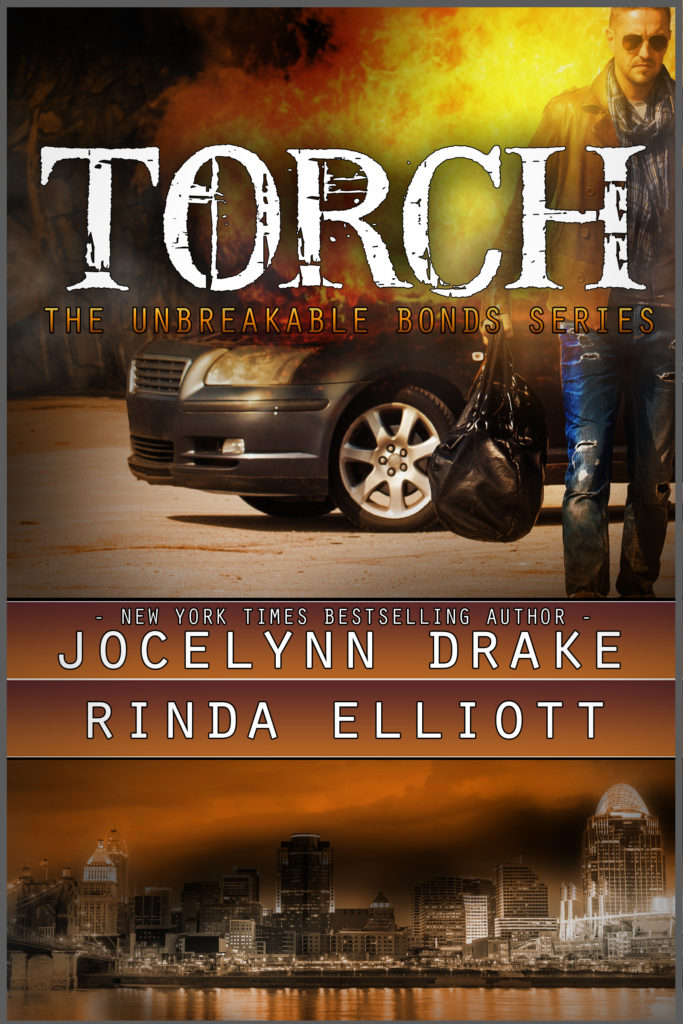 We have been absolutely dying to show off this cover. I love it! I think it fits this book is so many wonderful ways. Stephen Drake with Design By Drake continues to make such awesome covers for us.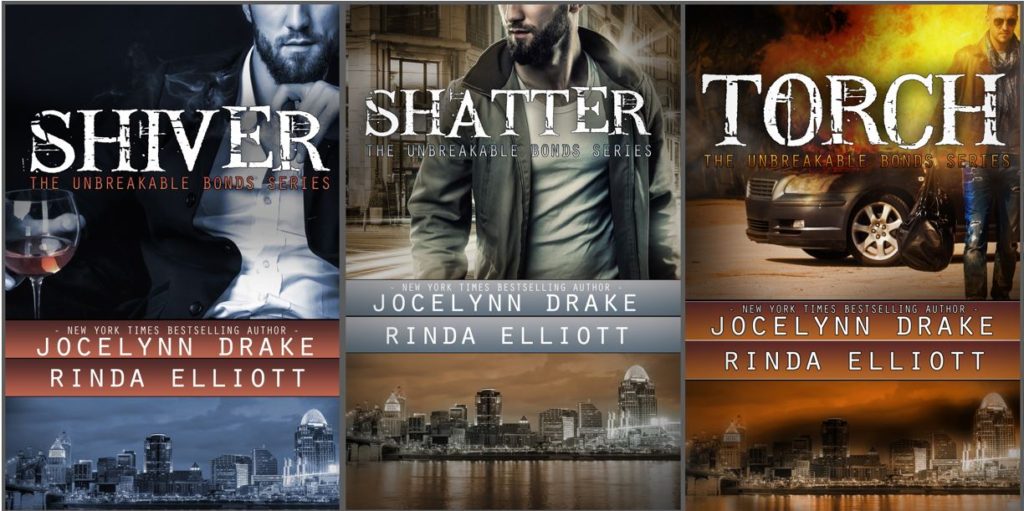 I think is also so fun to see all the novel covers lined up together. If you will notice, the covers have become progressively more aggressive. With Shiver, we're still civilized. For Shatter, we get the feel of a man on the run. And for Torch, we now have things on fire — which really was only a matter of time with these guys.
When you think that we've still got to write Ian's book, well… if I was a reader, I'd be a little worried about now.
But are we upping the ante with Torch?
I'll let you be the judge. Here is a description of Rowe's book:
Nine months ago, Rowan Ward thought he had it all. Now he's fighting to pull his shredded life together, buried in work and battling the kind of grief that destroys a man's soul. When fires spring up around Cincinnati threatening Rowe's friends and clients, he's thrilled to find his old Army buddy, Noah Keegan in town. They were a hell of a team when they served together, so in-sync, it was rumored they could read each other's minds.

Noah thought devoting his life to the Army would be enough. Then he realized he had no family and only one friend he cared about. When his enlistment was up, he found himself standing on Rowe's doorstep, looking only for friendship but secretly hoping for more. He needs to know if their one unbelievable night together years ago wasn't a mistake.

Caught in a dangerous game of fire and bullets, neither expects the inferno of emotion that ignites between them. One Rowe isn't prepared to accept. One that could break Noah.
Squee!!!
Are you excited?!?!  I am so excited for you to get this book!
It will be out Tuesday, October 25. You can pre-order your copy on Amazon, Barnes & Noble Nook, Apple's iBooks, All Romance Ebooks and on Kobo.
Now is a great time to start the Unbreakable Bonds series!
Read Unbreakable Stories: Lucas – A short story collection featuring Lucas and Andrei.
Read the Snow and Jude short stories here.
Pre-order Torch.
Follow Rinda and me on Facebook or Twitter.
Join the Unbreakable Readers Facebook Group to get all the good dirt, gossip, and early sneak previews regarding the series.
Sign up for our newsletter to stay current with all our news and upcoming books.