It has been a simply insane week!
The big news is that Rinda and I did a Bookbub Featured Deal for Shiver, book 1 of the Unbreakable Bonds series, and readers have loved it.
In case you're not familiar with Bookbub, it's this great service that notifies you once per day of great ebook sales. You create an account and select your favorite genres…. And that's it. Once a day, you'll receive an email with book deals in your selected genres. Neat, huh?
Also, you can sign up to follow your favorite authors — such as Jocelynn Drake and Rinda Elliott. That way you get an email when that specific author has a new book release or a book on sale.
I have discovered so many great books and authors through Bookbub.

Ok… enough Bookbub advocacy from me.
The point…
The ebook for Shiver is still on sale for $0.99… but this sale is not going to last much longer. In fact, it's going to end Sunday night.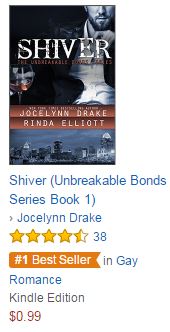 Do you have friends who love m/m romance but haven't tried the Unbreakable Bonds series yet? Tell them this is the BEST time to start the series. You can get the first book for $0.99 and then pick up the collection of short stories for Lucas and Andrei for only $1.99 on Amazon.
From the short stories, then you get back into a full-length novel with Shatter — mmmmm…. Snow and Jude. We love our damaged Snow. And we love our sweet Jude.
And don't worry. Torch, book 3 of the Unbreakable Bonds series, will be out in less than three months!
But the first step is to try Shiver. We've had so many new readers discover the book. In fact, Shiver was named a bestseller on All Romance eBooks, topped a list on Kobo, and topped several lists on Amazon around the globe with this sale. We're so excited that the word is spreading about this series and that people are enjoying the books.
If you have tried Shiver for the first time and you're thinking: "OMG! I need more and I need it now!" Don't worry. I'll be back on Monday to give a step-by-step guide on what to do next to feed your need for the Unbreakable Boys.
To get a copy of Shiver for only $0.99, you can pick it up from:
And before I kick off this weekend, writing my very last chapter of Torch, let me say a big THANK YOU to everyone who has tried the Unbreakable Bonds series. Whether you loved it or it wasn't your cup of tea, we thank you for your support.