We did it! We survived Thanksgiving and now we're rushing headlong into the holiday season that includes decorating, parties, dinners, family, drinking, and hopefully lots of good memories. Even though I'm in South Florida, I still have warm memories of cuddling up on cold nights, a brightly lit Christmas tree, and a cat snuggled in my lap as I watch White Christmas with someone I love.
It's been a divisive year and we're entering the holidays feeling a little battered, bruised, and worried about what will happen next. But I think it's important to enjoy a little holiday cheer. While things are at their darkest, it's important to remember that there are friends and family out there who can shine a light on the shadows. That love will still win.
So in the spirit of love and hope and a little holiday magic, I thought I would create a quick list of some of the newest Christmas stories that have been released. Theses are not listed in order of preference. (In fact, I haven't read any of these yet but I bought them all over Black Friday weekend and I'm digging in through the end of December.)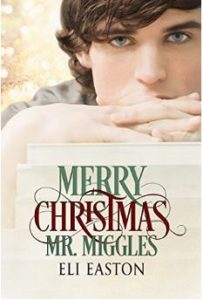 Merry Christmas Mr. Miggles by Eli Easton
Toby Kincaid loves being the junior librarian in his hometown of Sandy Lake, Ohio. He spends his days surrounded by books and chatting with the library patrons. He especially adores the head librarian, Mr. Miggles, who is kind, witty, knowledgeable about everything, and hopelessly addicted to Christmas. Sean Miggles is also pretty cute—especially for an older guy who wears ties and suit pants every day.
But Sean keeps himself at a distance, and there's a sadness about him that Toby can't figure out. When Sean is accused of a crime he didn't commit, he gives up without a fight. Toby realizes that he alone can save the library—and their head librarian.
Toby will need to uncover the darkness in Sean's past and prove to him that he deserves a second chance at life and at love too. And while Christmas miracles are being handed out, maybe Toby will get his own dearest wish—to love and be loved by Mr. Miggles.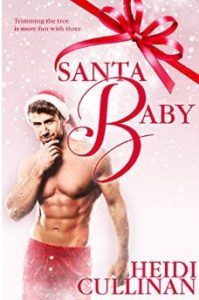 Santa Baby (Minnesota Christmas Book 4) by Heidi Cullinan
Trimming the tree is more fun with three.
Twin Cities developer Dale Davidson has come to Logan, Minnesota, to turn it into Christmas Town, not to give in to Arthur Anderson's offer to join him and his fiancé, Gabriel Higgins, for a Christmas Eve threesome. Dale is polyamorous, but it's clear Arthur is offering a night of fun and nothing more. Maybe one night with the couple he admires so much won't hurt…
Together the three of them light a fire hot enough to boil Lake Superior in January, and one night of fun becomes an extended engagement as Dale puts down some tentative roots in his new hometown. Everyone loves Dale, Logan's own Santa Claus, and somehow no one knows what wild times are happening right underneath their noses. No one knows, either, the complicated ways they're falling in love with one another.
But a shadow from Dale's past emerges, an abuser threatening him with violence and shame. Ronny doesn't want a happy ever after for Dale, only to draw him back into a consuming darkness. It will take the love of not only Gabriel and Arthur but all of Logan to convince their Santa he has nothing to be ashamed of—and that he will always have a home in their hearts.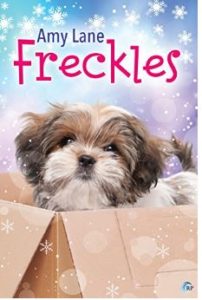 Freckles by Amy Lane
A 2016 Riptide Holiday Charity Novel
Carter Embree has always hoped to be rescued from his productive, tragically boring, and (slightly) ethically compromised life. But when an urchin at a grocery store shoves a bundle of fluff into his hands, Carter goes from rescuee to rescuer—and he needs a little help.
Sandy Corrigan, the vet tech who helps ease Carter into the world of dog ownership, first assumes that Carter is a crazy-pants client who just needs to relax. But as Sandy gets a glimpse into the funny, kind, sexy man under Carter's mild-mannered exterior, he sees that with a little care and feeding, Carter might be Super-Pet Owner—and decent boyfriend material to boot.
But Carter needs to see himself as a hero first. As he says good-bye to his pristine house and hello to carpet treatments and dog walkers, he finds that there really is more to himself than a researching drudge without a backbone. A Carter Embree can rate a Sandy Corrigan. He can be supportive, he can be a hero, he can be a man who stands up for his principles!
He can be the owner of a small dog.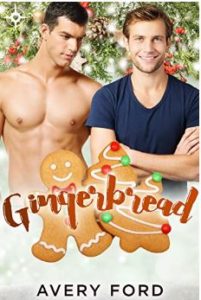 Gingerbread by Avery Ford
"I've been hurt too many times…I'm not giving my heart away again."
Alex MacElhaney doesn't know what to do with children. He's more than satisfied with his two English Setters, Molly and Duke, and his fledgling bakery business. But when an emergency with his sister in law's family leaves him in charge of his two nephews in the weeks leading up to Christmas, Alex buckles in for a crash course in parenting.
"A second chance with the one man who unintentionally broke my heart?"
Police officer Kellen Walker's deepest wish is to have a husband and children. The happy families he sees all around him at Christmastime leave him feeling cold and alone. He'll never have that – coming out as gay would break his ailing father's heart. The only thing he can do to combat his loneliness is to throw himself even further into his work, burying his needs in service to others.
"Is their love strong enough to risk everything?"
When Kellen investigates a break in at Alex's bakery, he comes face to face with the one man who almost tempted him into defying his father and coming out – but that's in the past. Kellen resolves to do his job and be the friend that Alex wanted all along. But when Alex suggests a Christmas fling, can they both love the other without their hearts getting attached?
Gingerbread is a steamy, standalone gay romance novel, with a happily ever after ending and no cliffhangers. It is set in the same world as Protector – Reed and Logan's story.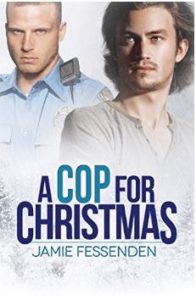 A Cop for Christmas by Jamie Fessenden
Mason Collier isn't big on authority figures. When Office Steve Coleman pulls him over and gives him a speeding ticket, he doesn't react well. He's even less happy when he discovers the cop lives next door to his parents' house.
No matter where they turn this holiday season, Steve and Mason keep running into each other, and whenever they talk for more than a minute, they piss each other off. But from wayward dogs to Christmas tree hunts to maple syrup festivals, it proves impossible to avoid each other in the small town.
If Mason can see the good man behind the badge, he might just get a cop for Christmas.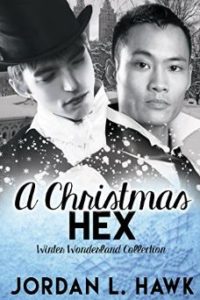 A Christmas Hex by Jordan L. Hawk
A Hexworld Short Story
Roland knows he will never find love. Everyone views wolf familiars like himself as dangerous beasts, unable to rein in their savage impulses. He's resigned himself to his fate—or so he thinks, until he meets the dashing Augustus Cao. His witch.
Gus is on the trail of a gang of thieves, and Roland holds an important clue. Even though they can never bond, Roland can't pass up the opportunity to spend a night with his witch.
Can Roland conceal his secret, while helping Gus catch the thieves? Or will the handsome detective be the one to steal his heart?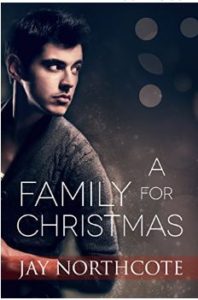 A Family for Christmas by Jay Northcote
Zac never had a family of his own, but Rudy has enough to share.
Shy, inexperienced Rudy has a crush on Zac from the moment his new colleague walks through the door. On an office night out before Christmas, Rudy finds the courage to make a move, and they form a tentative bond. When he discovers Zac will be alone at Christmas, he invites Zac to come home with him.
Zac prefers to keep people at arm's length. Yet when Rudy offers him a family Christmas it's impossible to resist. With no parents of his own, Zac is pleasantly surprised to be welcomed by Rudy's. The only drawback is that everyone assumes they're a couple. Unwilling to disappoint Rudy's mum and make Christmas awkward, they decide not to deny it.
It's not a chore for Zac to pose as Rudy's boyfriend, but the pretence makes him want things that scare him—things like a real relationship with Rudy. Zac's suffered enough rejection in his life already and is afraid to risk his heart. If he can get over his past rejection and let Rudy inside his armour, he might get more for Christmas than he ever imagined.
This story is a standalone book with a satisfying happy ending.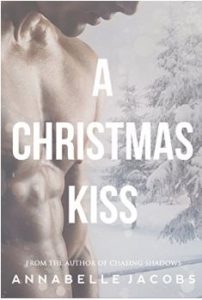 A Christmas Kiss by Anabelle Jacobs
Keeping secrets from your best friend isn't right, but it's easier than admitting you've fallen in love with him.
Sharing a late-night kiss with his best friend, Alex, is Riley's dream come true. Waking up to discover Alex was too drunk to remember anything is more like a nightmare. Scared the truth could destroy their friendship, Riley keeps quiet and pretends nothing happened.
Alex can't shake the feeling that he said or did something stupid on their group's drunken weekend away—why else would Riley be avoiding him? Although the explanation he finally gets sounds plausible, Riley's still acting strange, and trying to figure out why that is unearths emotions Alex has worked hard to bury.
Riley knows not telling Alex how he feels is probably selfish, but he wants one last normal Christmas before he has to come clean and face the potential fallout.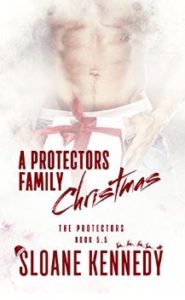 A Protectors Family Christmas by Sloane Kennedy
It's the holidays for a group of very special men who've managed to become a family in the last year and while all the guys are coming together to celebrate Hawke and Tate's upcoming wedding, a few of them have big plans of their own…

A change of plans…
Newlyweds Ronan and Seth are settling into married life as Ronan considers his return to medicine and Seth starts dreaming of a future that may include the pitter patter of little feet a lot sooner rather than later.

Building a future…
Knee deep in wedding preparations, Hawke and Tate are celebrating something even more important – Matty's final round of chemotherapy treatment. As they anxiously await confirmation that their son is finally in remission, both men strive to give their little boy a normal life including a new house, playdates with Matty's new best friend, Leo, and a new support system of men and women who are starting to seem a lot like family.
An important question to ask…
Meanwhile, Mav is looking to make things official with Eli despite the young man's busy schedule with medical school. But before he can ask the man of his dreams that very important question, he has to get past Eli's family first, including a posse of two overprotective fathers, several intrusive uncles and a little girl who just wants to brush Mav's hair!
Figuring it all out…
With Memphis, Brennan and Tristan settling into their newfound relationship and our favorite threesome from New York visiting for the wedding, there are plenty of chances for old friends to connect and new bonds to be formed.
The best kind of chaos…
And of course, what wedding wouldn't be complete without a little drama including some white hot sexual tension between a not so old grandfather and a certain cocky bodyguard? Add in some more Barrettis, a couple of precocious kids, several dogs, one spoiled cat and a gaggle of new, hot alpha men and you've got the perfect storm for a holiday that only the Protectors could pull off!
*Includes a special bonus scene at the end of the book!
**NOTE: THIS IS NOT A STANDALONE STORY – It features previous characters from all of the "Protectors" series books.***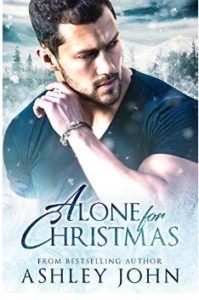 Alone for Christmas by Ashley John
Noah expected to spend Christmas alone, but he never expected to spend it falling in love with his boss.
With his third divorce looming and his bank accounts frozen, Chip Harington was surprisingly okay with spending Christmas alone, even if he was living out of a suitcase in his office. He had already decided to skip the office Christmas party, until some surprising words from one of his employees makes him change his mind.
Noah always expected the crush for his boss to fade, but after two years working under Chip, his feelings are stronger than ever. With Chip's personal life in tatters once more, Noah never expected his boss to show his face at the office Christmas party, so he was even more surprised when his drunken attempt to kiss Chip turned into so much more.
Chip assumed his encounter with Noah was nothing more than a one-night stand, but when his employee emerges from a snowstorm on Christmas Eve, they are forced to spend Christmas together in a London office block. With the lines between employer and employee blurred, will either man emerge from the snow the same, or will their Christmas encounter change the course of their lives forever, making them wish they had spent Christmas alone after all?
And well…. I couldn't leave this one out: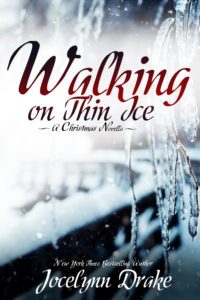 Walking on Thin Ice by Jocelynn Drake
It's not easy for Spenser Roland to admit it, but he needs help. Christmas is just a few days away, and he can't face the idea of showing up to his family's gathering alone … again. They want to see him happily settled, but Spenser doesn't date. He can't risk it if he wants to protect his family. But one unexpected night with Evan Scott has him thinking that maybe he can strike a deal that will make his family happy and give him a little holiday cheer as well.
Evan never should have accepted a ride home from the sexy-as-hell corporate executive, but he's proud that he stuck to his guns. He's done with the one-night stand game. He wants something real. Something that lasts. But when Spenser returns, asking him to pose as his boyfriend over the weekend at a Christmas celebration, Evan is sure he's lost his mind.
But he can't say no.
Maybe it's the shadow of loneliness in Spenser's bright blue eyes that's too much like his own. Or maybe it's his heart-stopping smile.
Either way, Evan knows he's on thin ice with Spenser, risking his own rules and heart, but Spenser is worth the risk.
I hope this list helps to get your holiday season started off right! Happy holiday reading!