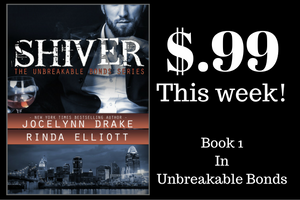 Jocelynn and I are hoping to have some news very soon, including a cover reveal of Unbreakable Stories: Snow.
We are both excited about this compilations of short stories and a novelette. They are sure to warm these cold, winter days. Like, really, really warm. If you've read Shatter, you know that Snow and Jude bring the heat!
But we have something very special going on this week.
You can get SHIVER for only $0.99 and jump into the adventure now before Snow's compilation releases.
It's a great time to start a new series!
If you've not jumped on Shiver yet, here's a quick description of the book:
Lucas Vallois is always in control. He's building an empire in the glittering city of Cincinnati and created his own family from his three close friends. The self-made millionaire has everything he wants within his tight grasp. But his world starts to crumble after he's jumped by a trio of thugs late one night after leaving a club. The warning is clear—give up his new property venture or end up dead.

Caving to the demands of his friends, Lucas accepts the help of bodyguard, Andrei Hadeon, as he hunts for the source of this new threat. But as Lucas gets closer to uncovering the danger, he realizes the sexy Romanian bodyguard poses an even bigger risk to his carefully constructed world. Trapped by a need he never expected, Lucas must find a way to deny the shiver of longing he cannot control.

His brother. His warrior. His heart. Four friends. Unbreakable bonds.
And once you finish Shiver, you can get a little more of Lucas and Andrei's story with a special collection called, Unbreakable Stories: Lucas. This collection features several short stories and a novelette about a Thanksgiving you don't want to miss.
Then you're ready to jump into the next novel, Shatter, where you will learn Snow and Jude's story. What's great is that very soon we will have Snow's collection available!
Join the Unbreakable adventure now…
Shiver is on sale at these outlets!
(We're still waiting for Kobo to update the price.)