I'm back. If you're a member of our exclusive Facebook Group — Unbreakable Readers — you know that I recently took a business trip to London for my day job. Now, when you think of a business trip, you might think of luxury hotel suites and amazing private jets. I can assure you that this certainly wasn't the case with this trip – even though you can now travel on a private jet without worrying about the cost of fractional jet ownership, I had no such luxury! Nevertheless, I thoroughly enjoyed myself. It was my first trip to London and I have to admit that it was absolutely fabulous, even if it was colder than hell. (Keep in mind that I've lived in South Florida for a few years now; anything under 65 degrees constitutes "colder than hell" for me.)
Between meetings, articles, and finishing up edits for the upcoming Unbreakable Stories: Snow collection, I got to do some sightseeing, which I've got admit was a hard thing to do. We had two days to tackle as much of the city we could. That's not nearly enough time to seriously chip away at the city, but we made a good attempt.
I will say that one of the best ways to see a lot is through the Hop-On-Hop-Off double-decker bus tours. You get to ride around the city in one of those big red buses and have a tour guide telling you all the bits of history and interesting secrets of the city.
Jumping on the bus, we passed by St. Paul's Cathedral, which I believe is one of several churches designed by Christopher Wren.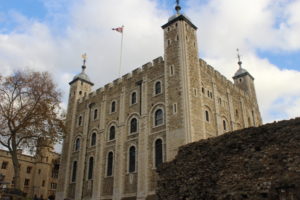 Our first stop was the very necessary Tower of London. While known as a prison, it was first designed as a fortress to keep people out rather than to keep people in. We joined up with a tour led by Billy Beefeater, who in a very loud voice told some absolutely fabulous stories and jokes. We learned about the Traitors Gate, the Bloody Tower, the church where two of King Henry the VIIIth's wives are buried, and visited the crown jewels. (I'll admit that while looking at the jewels I couldn't help but think of the Sherlock episode where Moriarty breaks in and sits wearing them all.
And of course, from the Tower of London you can easily see the Tower Bridge where it crosses the Thames. We were lucky to have a nice, mostly sunny day for wandering around the city and taking pictures.
After tackling the Tower of London, we got back on the bus (warmed up because it was cold out there) and traveled down along the Thames to see Westminster Palace (which is more commonly referred to as Parliament) and Big Ben (which isn't the name of the clock tower – just the name of the bell in the clock tower). And yes, I did make the National Lampoon's European Vacation joke several times (Hey, look kids. Parliament! Big Ben!)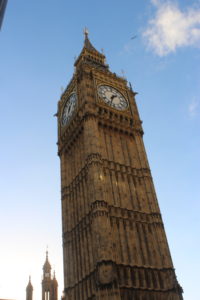 By now it was late and cold. We were starving. So we got back on the bus and rode around until we reached a place called Green Park. I can't tell you exactly where we were, but we found a great place to grab a yummy lunch. And considering how much walking we were doing, we treated ourselves to dessert.
From lunch, we rode a bit and then ended up walking down Regent Street. It reminded a lot of Fifth Avenue in NYC. They had it decorated with these amazing angels in white lights above the streets. We also walked through Picadilly Circus. (Let me just say that this circus didn't come with elephants or clowns) but had the same kind of lights and insanity of Times Square in NYC.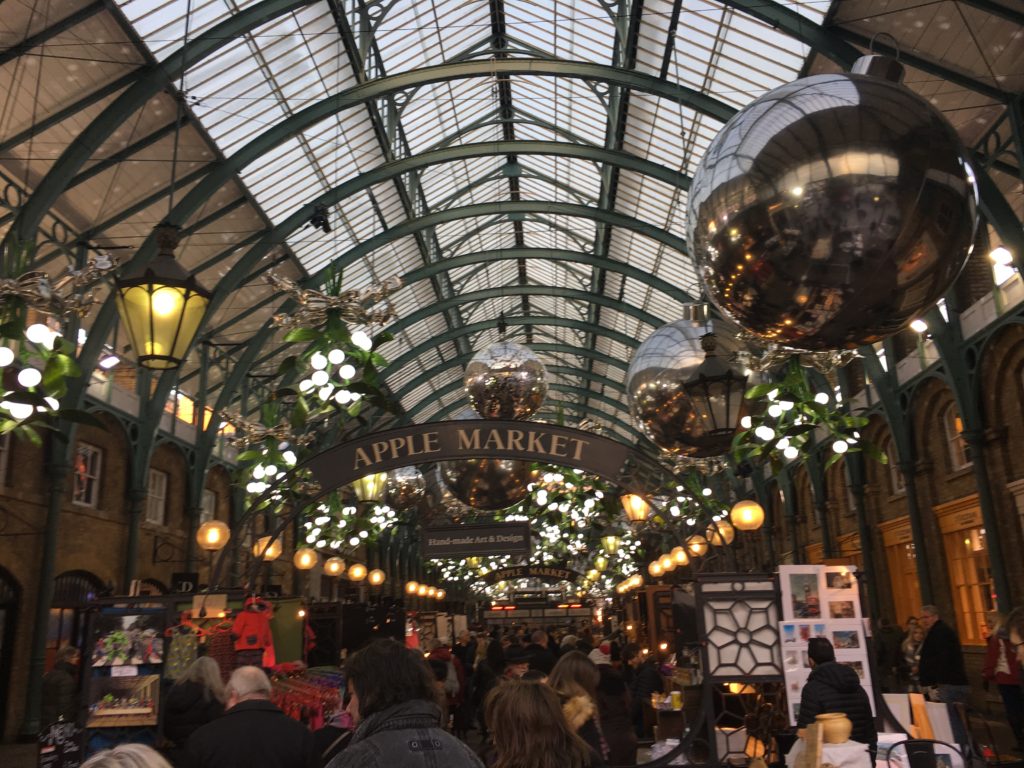 Our hotel on the Strand was also close to Covent Garden. It has all these great shops and an open market. I might have done a little shopping there. The church there is also known as the Actor's Church because street performers have been putting on little shows in front of that church since the days of Punch and Judy.
Of course, I also saw Trafalgar Square, Buckingham Palace, and the National Gallery in passing. We attended an amazing in the West End called Peter Pan Goes Wrong. It was the story of Peter Pan, but just imagine everything that could possibly go wrong in a play… well, it happened and it was hilarious. I've never laughed so hard.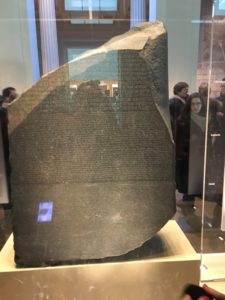 But one of my favorite places was the British Museum. Oh my god! I loved that place and it was FREE!! Actually many of their museums and galleries are free. We had only a few hours to wander through it on Sunday and I feel like we barely made a dent. I love all the little bits of history. We actually saw the Rosetta Stone!
Unfortunately, there wasn't time for the mummies, but that just gives me another excuse to go back.
Sadly, I didn't spend nearly enough time there to write a book set in London from the eyes of a local. However, it might be interesting to write a story set in London told from the point of view of two clueless tourists…. Hmmm….I wonder if I could talk Rinda into a story like that….
And if you haven't joined our Facebook Group yet, you might want to consider it. This is a great place to discuss the Unbreakable Bonds series, get early sneak peeks, and hear news first.