In case you m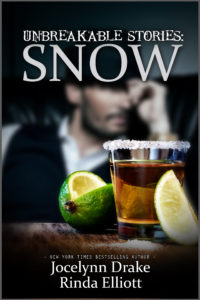 issed it, we did a surprise release of Unbreakable Stories: Snow and now, it's also now in print! (I'm am still SO in love with this cover!) Here's the link to Amazon. The short story compilations are smaller in size to the regular books in the series. That's because they are between 30 and 40k words and to make them affordable for readers, we had to make the size of the books smaller. But all of the compilations will match in size.
Also, it's finally up on Kobo for those who prefer to get their ebooks there.
This sexy compilation has been getting some wonderful reviews. Here are a few fun quotes:
"For fans of this series, this is a little gem and one not to be missed. Highly recommended!" From Judith at Dirty Books Obsession. 5 STARS!
"I love that Rinda and Jocelyn spent the time crafting these in between shorts to flesh out the lives of the gorgeous men who inhabit the Unbreakable Bonds series. The main novels are wonderful but these little snippets into what happens next allow the reader to form an even greater bond with the characters." From Cadiva at Goodreads. 5 STARS!
"Snow, Jude, Tequila, Wall Sex, Dirty Talk, Dirty Dancing, Sex Toys, Emotions, Feels, Whole lotta love and The Unbreakable Bonds…
Fucking Amazing collection of stories..!! Read it now..!! You will fall in love with them more. Highly Recommended..!!" From Parvathy at Gay Book Reviews. 5 STARS!
"Snow + Jude + Wall Sex = OH, fuck YEAH! HIGHLY RECOMMENDED!" From Gigi at Gay Book Reviews. 5 STARS!