Welcome to the celebration!
I'll admit that I've never been a big fan of Valentine's Day, but when you've got the boys of the Unbreakable Bonds series around to make it special, well…it's really hard to turn your nose up at the idea of love, chocolate, snuggling, and … other fun things.
To get in the mood, Rinda and I have decided to celebrate Valentine's Day all week long.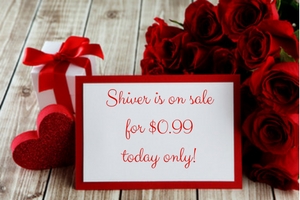 To kick things off, Rinda and I have set a challenge forth that we have to answer: What would each of the guys do to celebrate Valentine's Day?
So today I'm starting with Lucas's answer since his book, SHIVER, is on sale for just $0.99 – TODAY ONLY!
(Disclaimer: Whatever follows during the next several days is hypothetical and non-canonical to the Unbreakable Bonds series. In other words, what happens here doesn't necessarily happen in the series.  We will try to be non-spoiler-y if you haven't read the series, but keep in mind that they are romance novels. It shouldn't be a surprise that Lucas falls for Andrei.)
LUCAS
Andrei walked slowly, allowing himself to be carefully led by Lucas, as a smirk lifted on corner of his mouth. He lifted his left hand to touch the blindfold again, but stopped himself before his fingertips reached the silky material, dropping his hand back down to his side. "You know, I've never been much of a Valentine's Day kind of guy. If you wanted to have your way with me, you just need to give me a bottle of lube and maybe some pizza." He paused in his little shuffling walk and cocked his head to the side. "Actually, I think you can forget the pizza."
Lucas stepped close, running his left hand up Andrei's chest while tightening his right on Andrei's hip. "Are you saying you're a cheap date?"
"For you, baby? I'm fucking free."
Lucas couldn't help himself. He swooped in and captured Andrei's mouth in a rough kiss, loving how the man instantly melted into him. A moan rose up Andrei's throat as he kissed Lucas back. No matter how much time passed, they would always burn this hot and bright for each other. Lucas knew there was no one else for him. Never would be. Andrei could read him like no one else. He knew when to give him space, and he knew the moment he needed to step in and rein Lucas in.
A soft whimper broke from Andrei when Lucas ended the kiss. "Just tell me you're my gift. That's all I want." Andrei caught Lucas's wrist and tried to pull him in close again, but Lucas pressed his hand into his chest, keeping at least a foot of distance between them.
"That's later, I promise. Go ahead and take the blindfold off."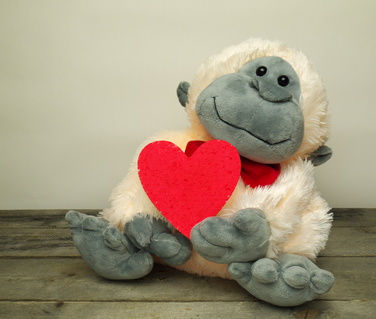 Lucas stepped back as Andrei released him to pull off the tie they'd used as a blindfold, trying to ignore the nervous flutter of his heart. He'd never tried to give a Valentine's Day gift. He'd gotten his assistant Candace to send flowers in the past, but he'd spent weeks contemplating and planning this gift for Andrei.
Blinking, Andrei rubbed his eyes before looking around the master bedroom. Lucas knew the moment his gaze focused on the mountain bike sitting in the middle of the room with the fuzzy plush monkey carefully tied to the seat with a red ribbon because Andrei's loud, joyous laughter filled the room.
"Your monkey has stolen my bicycle," Andrei said in Romanian, repeating the same silly line he told Lucas over and over again, recalling the warmth and happiness of their first night together.
"Do you like it?"
"Yes! I was thinking of taking up mountain biking this spring. Something to change up my workout, get out of the office a little more."
"You had mentioned that," Lucas said while reaching into the interior pocket of his jacket and pulled out plane tickets. "I got a bike for myself. I thought we'd head over to Switzerland and check out some of their mountain biking trails."
Andrei stepped closer, wrapping his arms around Lucas's waist. "So…vacation in Switzerland. Mountain biking."
"And excellent hotels and hotel sex."
Andrei made a sound in the back of his throat like he was purring as he leaned in, kissing along Lucas's jaw. "Now I'm sold. Let's practice the hotel sex now. We can work on the mountain biking later."
THE END
If you'd like to read more of Lucas and Andrei, be sure to check out Shiver from the Unbreakable Bonds series! For Monday, February 13 only, the ebook is on sale for $0.99. You can get your copy here:
Be sure to stop by tomorrow to read the next Valentine's Day story.