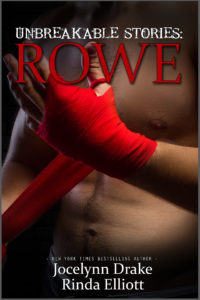 Just five days until Unbreakable Stories: Rowe!
Jocelynn and I have so much fun with our lovable pranksters. Expect laughter, heartwarming smiles, and yes, maybe a few tears. But good ones! These story compilations are like happy, long, epilogues that give us glimpses of life for our couples after the crazy danger is out of the way. We just love writing them. How about an excerpt? 
—————————–
The lake was massive, with tall, tree-covered hills rising up all around them. He had the feeling of being completely isolated from the rest of humanity except for some fishing boats and the random houseboat tucked out in a hidden cove. Here and there, he could pick out secluded cabins with wooden docks and the occasional sprawling resorts. But the rush of the city and the endless ping of emails were a world away.
Stretching his arms over his head, Noah stepped away from the railing with the intention of hunting down his boyfriend. When they'd started out, he'd mumbled something about stowing their gear while Noah explored the six-bedroom boat. He'd barely taken a step when Rowe's head popped up the stairs to the rooftop deck. The man stopped and looked around, his brow furrowed for a moment until he spotted Noah. A wide grin spread across his face and then he turned back as if he were planning to go back down the stairs.
"Hey! Whatcha looking for, babe?" Noah called, stopping him.
"What? Nothing. Just looking," Rowe replied a little too quickly. A little too innocently.
Noah pushed down his own smile and waved for Rowe to come over to him as he leaned against the railing again. "Yeah, I don't believe that for a second."
He quickly ran through where he'd last seen everyone when he'd ventured up to the top deck. Snow had been happily guiding the houseboat to the quiet spot where they'd drop anchor for the next three days. Jude was putting food away and setting about cooking hamburgers for lunch. Lucas was kicked back on the lower deck, a beer in hand. That in itself was a fucking testament to how much he'd mellowed with Andrei, considering that he was happy leaving boat novice Snow to the navigating. Andrei was unpacking and digging out his swimming trunks. Like Noah, he'd taken one look at the twisting slide off the end of the boat and become an instant five-year-old.
Sadly, Ian couldn't join them because he was needed at the restaurant. And after Ian's last couple of camping trips, it was likely that the young man wasn't willing to head out into the woods with them anytime soon. The gang would miss Ian's sweet smile, sharp tongue, and skills in the kitchen.
"What?" Rowe came the rest of the way up the stairs, but he kept his right hand low and behind his back as if he was trying to hide something.
"Whatcha got?"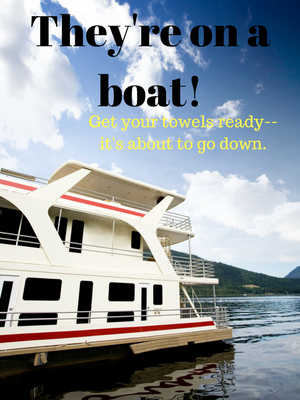 An evil grin spread across his face as he approached. He lifted his right hand and waved back and forth a twelve-inch statue of a merman poised on a rock with a shining orange tail. His bronze skin seemed to glisten in the sunlight as if he'd just jumped from the ocean. There was no missing the way his chest thrust forward or the "come fuck me" look he was leveling at Noah.
Noah cringed at the questionable piece of art. "Where the hell did you find that?"
"In the living room."
The houseboat was nice for the most part with dark woods and granite countertops. There were several black leather couches and plenty of outdoor seating. The decorating was strange. The theme was merpeople—every picture on the wall was of a mermaid or merman. Every little kitschy statue, bust, and knickknack was a mermaid or merman. And a lot of them were creepy like the one in Rowe's hand.
"And what's your plan?"
Rowe shrugged, trying to play it off as if he was completely innocent but Noah didn't buy it for a second. "I'm just doing a little redecorating."
"Fuck. Not our room I hope."
"Nope. Snow's."
Unbreakable Stories: Rowe is out June 20th! Pre-order your copy here! 
Also, don't forget to sign up for our newsletter here. We don't send it out often but it's a great way to keep up to date on all your new books, appearances, and other important news.