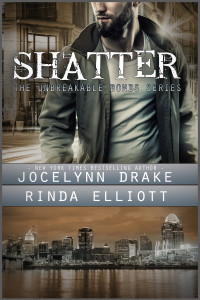 Today is the last day to get SHATTER, book #2 in our Unbreakable Bonds series, for just 99 cents! We'll be moving the price back to $4.99 tomorrow and it won't go on sale again in 2017. More about SHATTER here.
We are going through edits of Unbreakable Stories: Ian now and hope to have it out soon. Because we didn't give this one a specific release date and didn't set up pre-orders, the best way to find out when it's out is through our newsletter. The sign-up is at the right and we only send those out when we have new releases or possibly big news of some sort. Our goal is sometime in August for Ian's compilation!
We also have a fun reader's group on Facebook called Unbreakable Readers. It's another place to keep up with what we're doing and get fun behind-the-scenes info from Jocelynn and me. We hang out there often, in fact.
With Unbreakable Stories: Ian, the series will be complete. Here is the reading list:
Unbreakable Stories: Ian – coming in August