I feel like I'm writing a horror story… and after dealing with it all, I kind of feel like I've survived one.
But today I thought I'd take a moment to explain the chaos in regards to Devour and Kindle Unlimited, and maybe also peel back the mystery that shrouds independent publishing.
If you haven't tried it yet, Kindle Unlimited is an ebook program offered by Amazon. It allows you to read an "unlimited" number of books from those within the Kindle Unlimited program for a flat monthly fee. If you're an avid reader, it's a killer deal. It allows you to try many new authors that you might be unwilling to shell out $5.99 or $6.99 for a book without feeling that you've risked a lot of money.
In short, it's Netflix for books.
But on the author side of things…it's a little different.
Amazon wants a monogamous relationship when it comes to ebooks and Kindle Unlimited.
And for an author who makes just a small amount per book sold, you want your books as widely offered as possible right. I'm sure you've heard the old adage "Don't put all your eggs in one basket."
Yep, same idea. (But that's a scary concept for another time and discussion.)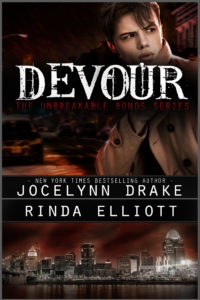 But Amazon is the major player on the street. The majority of all books sold go through Amazon.
And if you want to make money … you've got to play by Amazon's rules. (Are they fair? Again, that's another discussion entirely.)
But I digress…
To offer the Unbreakable Bonds books to an even wider audience, Rinda and I agreed to put the ebooks in Kindle Unlimited. When you sign up, you agree to a 3-month period. No negotiation. No exceptions.
You also agree that any ebook you place in Kindle Unlimited, you have to take it down from ALL other vendors. No negotiation. No exceptions.
So we did.
Or at least we tried to…
When the books were down from the big players (Kobo, B&N, and iBooks), we put the books into Kindle Unlimited.
And everything was great… until we got an email from Amazon.
They found an ebook of Devour on this lone German ebook vendor.
After the momentary panic and denial, I checked it out. Yes, this German ebook vendor — for some reason I can't begin explain — took down our other books at our request but didn't take down Devour as well as two other books.
Emails were fired off to Smashwords, which handles releasing books to all the other vendors. Smashwords reached out to the head vendor who deals with the smaller German vendor.
(I like to imagine many emails were being fired back and forth in a frenzy.)
I checked again and again, waiting for this German vendor to take down the books. I sent emails to my Smashwords contact who contacted their contact who bothered the vendor.
I checked again weeks later and Devour (along with the other two books) were down!
But three books that had been previously taken down were back up.
(This is the point where I started drinking heavily and swearing that if Amazon finds out, they're going to squish me like a freaking bug.)
I wrote more emails to Smashwords. My contact at Smashwords made a snazzy spreadsheet and went in with both barrels blasting.
And the books came down.
Devour is back in Kindle Unlimited.
Amazon didn't squash us like a bug.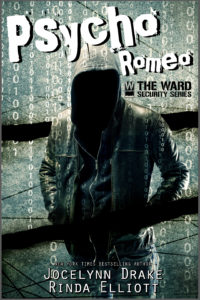 So… long story short. Sorry for the confusion. We were fighting a rogue German vendor so we could play in Amazon's pool of readers. As long as the ebooks don't get randomly reposted on other sites, we can keep the Unbreakable Bonds books in Kindle Unlimited. Big hugs and kisses for Marcus at Smashwords for putting up with my relentless, nearly panicked emails.
When the 3-month period is up will we renew for another 3 months?
I don't know. It's something that Rinda and I will discuss when we get close to that deadline.
Will Ward Security go into Kindle Unlimited?
We don't know. It's something that we have to weigh against exposure on the other vendors and what's best for our readers. If it goes into Kindle Unlimited, the series likely won't go in until we're at the end of it.
On the plus side… less than 16 days until Psycho Romeo is out!!!