It's hard to believe that Rinda and I released our first co-written book together two years ago. There are days that it feels like we've been doing this forever. And there are days when it feels like we're writing our first book together.
During those two years, we've created an interesting web of books and characters. There are now five novels, a novella, three novelettes, and several short stories.
And, of course… there's more on the way.
Numerous new readers have discovered us through Psycho Romeo, the first novel in the Ward Security series. While the Psycho Romeo can be read as a stand-alone book, it's easy to see that many of the characters passing through that novel has intricate backstories. That would be because they've already got their own books filled with dangers, triumphs, heartbreaks, and laughter.
So, let's say that you entered this world with Psycho Romeo and you want to read it ALL. You don't want to miss a second of the Unbreakable Boys and the Ward Security Deviants.
Good. I'm here to help you.
The first step is Shiver, book 1 of the Unbreakable Bonds series. It all starts with Lucas, in more ways that one, but you'll learn what I mean by that later.
From there, you go straight into his collection, Unbreakable Stories: Lucas. This has several short stories as well as a novelette called Thanksgiving that was specifically ordered up by the Unbreakable Readers.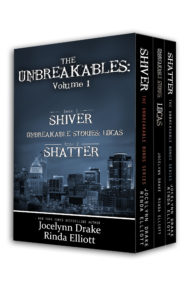 Shatter, book 2 of the Unbreakable Bonds series, is your next stop. And trust me, you don't want to miss a second of Jude and Snow.
And if you like to get those book in one quick dose, check out our new bundle on The Unbreakables (Volume 1). It contains Shiver, Unbreakable Stories: Lucas, and Shatter. You can read all three stories without needing to switch books or take a break.
Don't worry. We'll be releasing Volume 2 a bit later.
After the events of Shatter, you're going to need Unbreakable Stories: Snow, because you're going to need that second dose of HEA. This collection also contains a novelette along with short stories.
Torch, book 3 of the Unbreakable Bonds series, comes next with Rowe and his long-lost friend, Noah. Trust me, you're ready for this, and so is Rowe.
Now there's a couple ways you can go about this. I'm going to suggest that you head straight into Devour, book 4 of the Unbreakable Bonds series. It's time for Ian's story and to tie this massive story up with a big red bow.
And finally… jump into Unbreakable Stories: Rowe and Unbreakable Stories: Ian for those warm and fuzzy feelings. Rowe has a novelette while Ian has a novella.
There… you've met the boys.
Go ahead and swing around to read Psycho Romeo one more time. Yeah, you now see where Geoffrey and Sven came from.
And that reading list will get you ready for Ward Security #2, which we are hoping to have out in late January/early February. This book will feature Quinn Lake, computer specialist with Ward Security, and Shane Stephens, private investigator and friend of Jude (see Unbreakable Stories: Snow).
Rinda and I will have more news for Ward Security #2 in December.
I hope this reading list helps. Happy reading!