Yeah, Rinda did it. She pushed the button early. Dantès Unglued is now available on Amazon and in Amazon's Kindle Unlimited program. I will be finishing the final tweaks on the print edition this weekend so that the print edition will be available at the beginning of next week.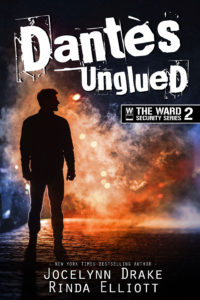 If you haven't checked out the book yet, here is a quick description:
When private investigator, Shane Stephens, is hired by the mayor of Cincinnati to track down the hacker who has been threatening him, Shane is sure this is the opportunity to launch the Merleau Detection Agency into the big time. He even convinces Rowe Ward of Ward Security to loan him one of his best IT specialists, Quinn Lake.
Shane, a man who prefers casual intimacy, is surprised by his attraction to the moody computer geek, but when Quinn suggests they have fun for the month he's on loan, Shane happily agrees. Both men are expecting nothing more than a good time.
But the investigation takes an unexpected turn and they quickly discover they are facing more than a hacker out to ruin the mayor's re-election chances. And as they spend more time together, they realize their relationship may be a lot more than just a good time.
With only weeks until the election, Shane and Quinn race to gather the proof they need while dodging bullets and possibly…falling in love.
This is the second book within the Ward Security series. It is a stand-alone book so you don't need to read the series in order. But now is a great time to read Psycho Romeo, book 1 of Ward Security, right now. Both are in Kindle Unlimited.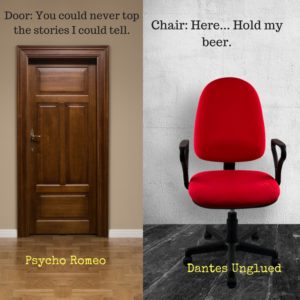 Rinda and I had a lot of fun working on Dantès Unglued. In Psycho Romeo, there is a rather infamous scene against a door, and now Dantès Unglued has a rather interest scene involving an office chair.
And we are now hard at work on the third book in the Ward Security series, Deadly Dorian. We don't have a release date yet but we are aiming for early spring.
We hope you enjoy Shane and Quinn's story!
Happy Reading!