Happy New Year! 2017 was an amazing roller-coaster ride. I'll have to admit that I'm always glad when the year ends, no matter how good it was. I'm always reading to move on to the next big thing. To push myself to do better next year, to be stronger or braver than I was the year before.
But it never hurts to look back on the year and review all that was accomplished.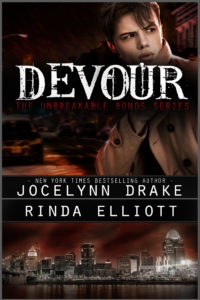 The big thing for Rinda and me was saying "goodbye" to the Unbreakable Bonds boys. We released the first book, Shiver, in October 2015 and we had no idea if anyone would read the books or even if we would make it to the final book.
By the time we finished Shatter and Torch at the close of 2016, we were already both wondering how in god's name we were just going to walk away after finishing Ian's book, Devour. We had both fallen in love with Lucas, Snow, Rowe, Ian, and their men so completely. We could hear their voices in our heads and we knew their unique reactions to all the little and big things in life.
So, it was somewhat bittersweet to release Devour in April, which was then followed by Unbreakable Stories: Rowe in June and Unbreakable Stories: Ian in August. It was important to us to have all the boys in a happy place when closed that chapter of their lives.
But we also had a plan.
And that plan was Ward Security.
I think we've batted the idea around for a good chunk of 2016, keeping the possibility of a spin-off series on the back burner. I didn't want to think too much about it until we had Rowe and Ian settled. We knew their stories were going to be complicated and we needed to focus on them to make sure their stories turned out great.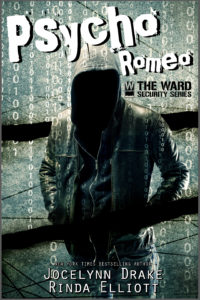 I think we knew before we even finished Torch that the man who was never supposed to get more than one appearance in Shiver was going to end up with his own book.
Geoffrey Ralse was Rinda's creation and he was born larger than life. Every time he stepped onto the page, he just shined. You wanted to know what made him tick, what made him laugh, and who he would eventually fall in love with.
So it was an easy choice to launch the Ward Security series with Psycho Romeo, featuring Geoffrey and Sven, in October. I think we both fell hard for Geoffrey while working on that book. There was so much more to Geoffrey than anyone expected and we loved watching him snag Sven.
And then, of course, the door scene.
Also, in 2017, Rinda and I attended our first GRL Retreat, which was an amazing experience. We met so many wonderful and lovely readers and authors. We laughed and shared secrets. It was an experience that I will never forget.
Looking Ahead to 2018
Naturally, Rinda and I are pushing to surpass all the awesome of 2017 with more books in 2018. And first up is:
Dantès Unglued!
As a New Year surprise, I thought I would share a quick description of the book. This is not the final description.
When Private Investigator, Shane Stephens, is hired by the mayor of Cincinnati to track down the hacker who has been threatening him, Shane is sure this is the opportunity to launch the Merleau Detection Agency into the big time. He even convinces Rowe Ward of Ward Security to loan him one of his best IT specialists, Quinn Lake.

Shane, a man who prefers casual intimacy, is surprised by his attraction to the moody computer geek, but when Quinn suggests they have fun for the month he's on loan, Shane happily agrees. Both men are expecting nothing more than a good time.

But the investigation takes an unexpected turn and they quickly discover they are facing more than a hacker out to ruin the mayor's re-election chances. And as they grow more intimate, they realize their relationship may be a lot more than just a good time.

With only weeks until the election, Shane and Quinn race to gather the proof they need while dodging bullets and possibly… falling in love.
We are aiming to have the book out in late January if possible. We are not doing a pre-order. As soon as it's ready, we're pushing the button! So you don't miss the release, be sure to sign up for our newsletter. You can also keep up with all the news, snippets, and secrets on our Facebook Group, Unbreakable Readers.
Since we're done writing Shane and Quinn's story, we have already started the third book in the Ward Security series, which is going to be titled…
Deadly Dorian
Seeing a theme here? Yeah, literary characters. Rinda and I are book nerds. We can't help it.
I'm not giving away a book description yet but Rinda and I will admit that this will be Royce's book. Rinda has thoroughly fallen in love with Royce, and I've got to admit that I've kind of fallen head over heels for the man that's going to melt Royce.
If we stay on schedule, Deadly Dorian will be released in late March/early April.
And yes, we know who gets the book after Royce.
No, I'm not telling.
But Rinda already has planned who he's getting matched up with.
So for 2018, we are planning to at least release
Dantès Unglued, Ward Security #2
Deadly Dorian, Ward Security #3
Unnamed Awesome, Ward Security #4
and a super special project….
And maybe some other things, but these are the known projects for the time being that I'm willing to be sneaky about.
So Rinda and I would like to say, thank you for an amazing 2017. Thank you for reading our books. Thank you for falling in love with our boys. Thank you for a year of laughs and happy tears. We hope the new year is amazing for you, filled with love, laughter, friendship, and so many amazing books.