I've never hidden the fact that I'm a former native of the Cincinnati/Northern Kentucky area. I was born and raised in the tristate area. I have family there still. My husband and I make the trek back to the Queen City at least once a year.
Cincinnati and the surrounding cities are home. While I may paint some areas as less than desirable, it's done with compassion. No city is perfect. There are both dark and light places there.
And because of my love of the city, I've tried to include real locations whenever possible.
In December, a member of the Unbreakable Readers Facebook group asked if I would put together a tour so that if she were to visit Cincinnati, she could actually visit the places within the books.
Over 10 books (going on 11), we've covered a lot of ground so I will need to break this up a bit, but I'll try to gather together the items that are close together.
Day 1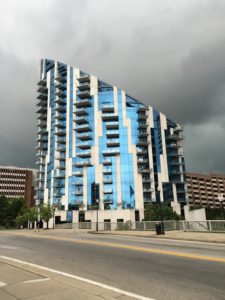 Let's start at Lucas's penthouse. It seems fitting since it all started at The Ascent.
You can either park your car on the street along East 2nd Street or I believe there's a garage around Madison Avenue and East Rivercenter Blvd. You can walk over to The Ascent, which is at East 2nd Street and Scott. Snap some pictures and imagine that Lucas and Andrei are up there, getting ready to start their day.
From the Ascent, keep walking north and cross the Roebling Suspension Bridge. Trust me, you can't miss the big blue bridge that kind of looks like the Brooklyn Bridge. It should. It was the precursor to that bridge. Crossing the bridge will give you a killer view of downtown Cincinnati, the Great American Ballpark, and Paul Brown stadium. Snap some pictures.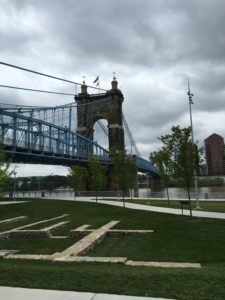 As you get to Ohio, you'll notice a wonderful park on either side of the bridge. This is Smale Park, the same place where Sven and Geoffrey wandered and had a heart-to-heart talk. Take some time to play on the foot organ and the flying pig. Sit on the big swings and watch the barges go down the Ohio River.
From the park, continue north toward downtown. You should be on the left side of the bridge (closer to Paul Brown stadium).  At the corner of West Freedom Way and Rosa Parks Street is Taste of Belgium. Stop in and treat yourself to some waffles. This would also be the same place where Geoffrey and Sven met with some of Geoffrey's "friends" and the infamous blow-up.
Replenished and rested, continue north up Rosa Parks. It will turn into Vine Street. At the corner of Vine and East 5th Street, you will reach Fountain Square. This is the city's center, if not her heart. It's my starting point when it comes to centering the guys in the city. Be sure to stop at Fountain Square. All the boys have passed over it at one time or another.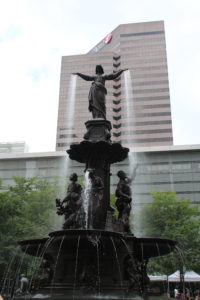 From Fountain Square, go east one block to Walnut and north one to East 6th Street. Take a deep breath. This is general area where I always imagined Rialto existing. Ian's pride and joy has played in every Unbreakable Bonds book in some way or another. It has survived several attempts by me to burn it down. I'm sorry there isn't a hard location, but I liked this area because it was close to Fountain Square and Aronoff Theater, which you should be able to see from Walnut and 6th.
This area is also home to Marc Foster's art gallery (but you'll have to learn more around that in Deadly Dorian.)
From here, you can head back down to East 5th Street and walk east. You'll pass both Taft Theater, where Quinn and Shane watched a speech by the mayor (and took part in a small riot) before continuing on to the headquarter for Procter & Gamble. There you'll easily spot the arbor where Quinn and Shane shared their first kiss.
Are you tired yet?
I've got a suggestion. Head back to Fountain Square and grab the street car (Cincinnati Bell Connector)!
From Fountain Square, you'll be able to ride the street car up to Music Hall, which we saw in Shatter for that horrible auction that had Geoffrey and Jude running across Washington Park to the safety of Snow's arms.
The street car will continue north into Over the Rhine (OTR), which Ian is where Ian had a run in with one of Jagger's goons as well as his date with Noah. Definitely stop at Findley Market if you can. It hasn't appeared in the series yet, but I'm working on it.
The street car will take you back to the Banks, where you can walk across Roebling Bridge and back to your car.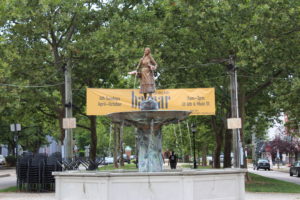 If you are looking for close your day with a little drinking and laughs, I suggest driving over to MainStrasse in Covington, Kentucky. This lovely little area was in the opening of Shatter. Grab some pizza at Goodfellas or head to the second floor where the bar, Wise guys, offers some amazing handcrafted drinks. Other local favorites that would also be favorites of the boys include Cock & Bull and Strausshaus.
I hope you enjoyed this tour of Cincinnati. For the next edition, I'll be taking you up to Eden Park for some very special locations.