Can you believe it?  Did you miss the news? Deadly Dorian, book 3 of the Ward Security series is out! Rinda and I are insanely excited for the release of this book. We fell in love with Marc and Royce while we were working on it. They are such fun, broken, dark, troubles, playful, and sexy characters. We didn't want the book to end and we couldn't wait to finish it so we could share it with readers.
If you've missed out on all the news about Deadly Dorian, here is a quick description of the book: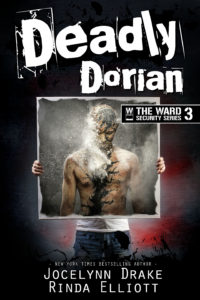 Someone is trying to kill Marc Foster.
Attempted poisoning was bad enough, but when the would-be killer messes with the brakes on Marc's precious Porsche, the art dealer admits he needs help. He just wasn't expecting help to be quite so dark and sexy.
Royce Karras loves his job at Ward Security. He's making up for a lifetime of bad decisions and a bloody past he'd rather forget. But Marc isn't the spoiled rich boy he thought he'd be protecting. Sticking close to Marc as his "boyfriend" gives Royce insight into his toxic family, but it also reveals a brilliant, compassionate man who completely disarms Royce. Against his better judgment, Royce finds himself falling.
But can they find a way to make it work when Royce's past threatens to tear their lives apart? Their future hinges on a lost Renaissance painting, six Bichon Frises, and a pornographic Robin Hood.
No worries, right?
And here is a quick bio and background on
and Royce Karras.
We had such an amazing time working on this book. We met some awesome new characters. We got to explore the art world and work with an artist. And we got to send the characters off on an adventure overseas.
We are hard at work on our next project. We have announced that it's a secret project and it is not part of the Ward Security series. We will be heading back to Ward Security after we finish this project. We will have more news in May.
If you haven't pick up a copy of Deadly Dorian yet, please go here. We will have the print editions available next week.
If you want to talk with other readers of the Ward Security and Unbreakable Bonds series, check out our Unbreakable Readers Facebook Group.
Happy Release Day!