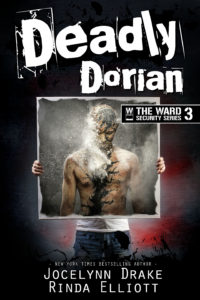 Crazy long, but fun soundtrack post! Maybe you'll find some new music to love in this eclectic mix. 😉
We are eight days out from the release of Deadly Dorian. (Pre-order link!) This is one of those stories that gripped both Jocelynn and me by the throat and just held on. These two characters come with baggage and both feel everything so keenly, I felt every one of their emotions while writing. And oh, do Royce and Marc bring the emotion.
And the HEAT.
But while I was writing, I was also listening to music. It's no secret, I'm a music junkie. I've always been one to buy an mp3 album after listening to one song, but in the last year, I've started buying physical CDs again. (The fun thing? Often, the MP3 album is included. It's like getting a musical gift twice!)
This time, I was heavily influenced by one particular album and listened to the entire thing often. I've included two songs off of it in this list of videos. But here is part of my dedication to Deadly Dorian:
This book is dedicated to The Pineapple Thief for Your Wilderness. Every single second of this beautiful piece of art influenced me. Inspired me. Touched me. I thank you for the beautiful music. For touching my soul.
I bought the CD after hearing The Final Thing on my Mind, which has several fantastic videos to it on Youtube, but the one I'm sharing is a particular favorite and worth the time to put in earbuds and sit back and enjoy. Love the dancers and chalk! (Marc actually listens to this one in a scene, too.) 
There are around thirty songs on one soundtrack and 15 on the instrumental, so I won't share videos for all. But here are quite a few. Have fun! (An easy grab and go full list of songs is at the end of the post.)
The Pineapple Thief song that made me obsessed with their entire CD.
An absolutely gorgeous song that I listened to a lot while getting ready to sink into their world. This was on repeat often.
Royce and Marc. Sigh. They are explosive at times, so I pulled up some sexier…and harder songs for them. Often.
Some softer sexy tunes, too. I love these! Two feet has two songs on the soundtrack.
Royce and Marc actually dance to this song in a club…in Italy. Also really good with earphones, loud, and eyes closed.
A few oldies, but goodies.
https://youtu.be/F5lIRkYKAbk
I listened to a lot of club music, too. Often I have to switch to music with fewer lyrics so I can concentrate. Something with an easy beat does the trick. Sometimes trance. There's a reason it's called that, you know.
Random favorites:
Gorgeous song and video. (Come on, you knew there would be at least one Maynard James Keenan piece! (Super fan here.)
The song that Joce and I both felt fit a part of the book perfectly. One that hits you in the FEELZ.
There were a lot of instrumentals, too. I have an entire separate list of those, but that would make this post WAY too long. LOL But here are a couple.
https://youtu.be/lvJy1LAnw_k
Here's an easy list to grab and go for one of my soundtracks for this book:
The Final Thing on my Mind-The Pineapple Thief
I Feel You (2006 Remastered Version)-Depeche Mode
Slither-Velvet Revolver
The Optimist-Anathema
Ted, Just Admit It-Jane's Addiction
The Time-All India Radio
In Dreams-Ben Howard
No Ordinary Love-Deftones
Maybe-alina Baraz & Galimatias
Waiting Like a Wolf-Alek Fin
Crazy Bitch (Explicit)-Buckcherry
Do I Wanna Know-Arctic Monkeys
That Shore-The Pineapple Thief
Grand Canyon-Puscifer
Bloodstream-Ed Sheeran
Sexy Type Thing-Stone Temple Pilots
Dark Side-Bishop Briggs
Love is a Bith-Two Fee, Zachary William Dess & Kristine Flaherty
Shortline (Thomas Jack Remix)-Thomas Jack & RY X
Kanata-Mono
Cyclone-Mono
Policy of Truth (2006 Remastered Version)-Depeche Mode
Follow You Down (Original)-Just Her
Skin & Bones (Feat. Patrick Baker)(Enamour Remix)-Lane 8
mygut (Solomun Remix)-Super Flu
Tuesday Maybe (Modd Extended Mix)-Way Out West
Lie alone (16 Bit Lolitas Remix)-L. Doblado
Who You Talkin' To Man?-Nostalghia
Had Some Drinks (Explicit)-Two Feet
Remember, 8 days! You can pre-order your copy of Deadly Dorian here. Also, here are a couple of wonderful, early reviews to whet your appetite.