The boys are back…
Working in the Unbreakable Bonds world was surprisingly easy despite having finished Devour and the corresponding short stories nearly a year ago. Of course, the Unbreakable boys are never far away since they are making regular appearances in the Ward Security series.
But this return meant getting back in their shoes and their lives.
And for me, Lucas and Andrei will always hold a special place in my heart. I'm not picking favorites. I just can't. They are all special to me in different ways, but Lucas and Andrei were the first. They were the ones that I poured the most of myself into. Particularly Lucas. (Rinda can attest that I definitely have a bossy, grumpy, controlling side.)
As soon as Andrei proposed to Lucas, I knew that one way or another we'd be making another pass. We couldn't miss out on what would likely be the wedding of the year.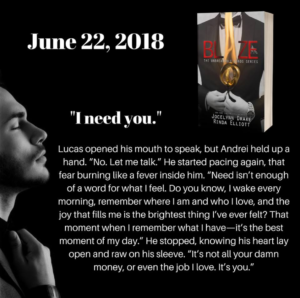 Of course, I wasn't worried about the wedding. I was more concern with getting the boys to the church on time. If you've read the other Unbreakable Bonds books, then you know that things don't have a habit of going smoothly for the boys.
In Blaze, we had someone unexpectedly reaching out to Lucas for help just a couple weeks before he's supposed to be tying the knot. Lucas was sure that it was going to be a quick trip to Oklahoma and back – no problems.
He was wrong. Very, very wrong.
In the story timeline, it's been approximately two years since Lucas and Andrei met and starting dating. They've lived together in the penthouse and progressed in their careers. Their circle of friends has grown. And I think in Blaze you will see that they are still figuring out what it means to be a couple. Both men are incredibly independent and protective of each other. They are still learning what each other needs to be happy. And of course, they are learning how to make a relationship work when they are both traveling often. That can definitely make for some hot late-night phone calls.
For me, working on Blaze was getting the chance to spend time with some people who've become very close friends. I missed Ian's sass, Snow's grumpiness, and Rowe's insanity. So don't worry… Blaze will have all of that and more.
If you haven't pre-ordered your copy of Blaze, click here. The book will be out Friday, June 22.