Are you excited to meet Jackson and Wade?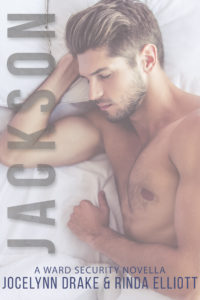 Yes, we kind of sprung this on readers a bit unexpectedly. We were contacted by a fabulous author who was pulling together a special FREE short story giveaway and she asked if we wanted to take part. Of course the answer was HELL YES!.
But then we had to figure out who? Who did we want to give a happily ever after? Who needed to shine in the spotlight for a little while?
So we dug around in our stories to see if we'd left anyone neglected and one of the first names to pop up was Wade Addams. Rinda had sneaked Wade into Ian's Valentine's Day story at the end of the Unbreakable Stories: Ian collection. He was an adorable and shy server at Rialto. He had only a few seconds on the page and you just knew this guy had a story to tell. We just had to find the right Ward Security guy to coax that story out of him.
We think we found it in Rowe's newest recruit, Jackson Kent. Yes, it's the poor guy's first day on the job and Rowe's already putting with a client. 
Don't worry if you haven't read the Unbreakable Bonds series or the Ward Security series yet. You won't be lost. JACKSON is a great introduction to the Ward Security series and even a little taste of the Unbreakable Bonds series. 
Here's a quick description of the novella:
Wade Addams has built a new life he loves. It's far removed from the one he led as a kid under his brother's evil thumb. Forced to jack cars, he ended up in juvie. Now, ten years later, he works as a server at Rialto where he feels like part of the family.

His brother's release from prison threatens to destroy it all.

Fewer trips and time to date made Jackson Kent leave the high profile security firm he worked for in L.A. and accept the primo job offer from Ward Security. He's heard great things about the Cincinnati firm. But he never expected to meet someone like Wade his first day on the job.

Sparks fly as these two work together to keep Wade safe and send his brother back to prison where he belongs!
And the best part is that this story along with 33 others is completely FREE. Yes! Free!
The MM Back to School Free Short Story Giveaway features more than 30 amazing authors. Load up your phone or your ereader with stories that you can easily read while you're on the go. To download your copy of Jackson and all the other great stories that are available, click here!
Just remember that this giveaway is only through September 4. After that date, a lot of these stories are going to go away and you might even have to pay for them. Download them now!