We've released Sadistic Sherlock into the world!
But if you haven't had the chance to enjoy it, I thought we'd give a little background on who exactly Dominic Walsh is and what makes this interesting man tick.
Meet Dominic
Born in 1986, he's a charming rogue at 32 with bright green eyes and equally bright red hair. Dominic "Dom" Walsh joined Ward Security for a little more than two years and Andrei personally hired him.
Since joining Ward Security, he has become known as the jokester, the man who is rarely ever serious. He has no problem dropping his pants and flashing his ass at his co-workers, which has put him through more than one "talk" with Carol in human resources about proper work behavior.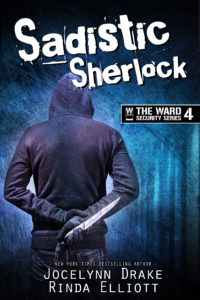 Dom loves his co-workers and he loves his work. He loves protecting people and being in the middle of the action, feeling as if he's doing something to help other people. He likes feeling that he's a part of something. Ward Security and his job is important to him.
Outside of his job, his friends don't actually know much about him. He's just the fun guy who likes to casually hook-up with random guys and just have fun. He's rarely a serious person and he's definitely not into relationships. He is the king of the one-night stand. His good looks add to his confident. And the scars he suffered  during a rescue attempt to save Geoffrey Ralse (Psycho Romeo) haven't slowed him down.
But his sense of self-worth and personal doubts come when he meets Abe Stephens, father of Shane Stephens. He crossed paths with  Abe when Quinn asked him to protect Shane's father. The older man's stunning looks caught him off guard and he was drawn to his warm, friendly manner. He wanted a hot one-night stand, but Abe wasn't the type to just jump into bed. Dom wasn't willing to just walk away from Abe. He was too intrigued, and Abe's hesitance just made him more enticing.
Over the past year, Dom has regularly teased and flirted with Abe via text. They've had a few serious conversations, but it's mostly been light and amusing. He's even stopped over a few times, but he's never gotten that first kiss.
Dom wants to get closer, to have a chance with Abe, but he's also worried about being able to be in a real relationship with someone who has been in a serious relationship before. He's also worried that Abe will wake up and figure out that he's not really into men.
If you'd like to learn more about Abe and Dom's story, check out Sadistic Sherlock. The ebook and print editions are now available.