Happy Thanksgiving from Rinda and myself!
If you celebrate this holiday, we hope that you have a wonderful day that's full of joy, laughter, and good food. This year, my husband and I celebrated a Friendsgiving with our South Florida friends on Saturday. Since we moved down here, we've celebrated Thanksgiving just the two of us and I've enjoyed our private little holiday. My husband is an amazing cook and I usually request that he make "practice" Thanksgiving meals throughout the year. Not that he needs the practice. I NEED the turkey.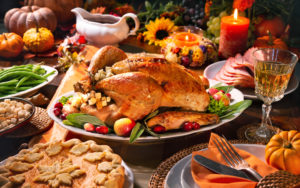 Today, we heading to celebrate Thanksgiving with another friend and her family. I'm a little nervous, but I'm looking forward to the adventure.
And then this weekend, my husband will be making our own Thanksgiving meal, because as I stated earlier, I need the turkey. And his cooking is amazing.
This year's holiday is particularly special for us because I believe this will be our last Thanksgiving in South Florida. We are aiming to kick off 2019 with a move west. We are still working out the details, such as where to live, but it's time to pack up our bags and start on a new adventure. It might mean a slight pause in the writing schedule for me, but don't worry. 2019 will be chock-full of new books.
As you slid into your turkey-fueled stupor and you're wondering, what would the Unbreakable Boys' Thanksgiving be like? We've got you covered. Today is a good day to visit, or revisit, the Unbreakable Stories: Lucas collection. In that book, you will find a novelette that features the first major holiday that Lucas and Andrei spend together. Andrei's parents also meet the rest of the Unbreakable Boys…and of course, some chaos ensues.
Stay tuned for more news on books and audiobook releases.
We wish you a wonderful Thanksgiving!