I have to admit that after living in Colorado for three weeks, I'm still adjusting to the idea of cold and winter.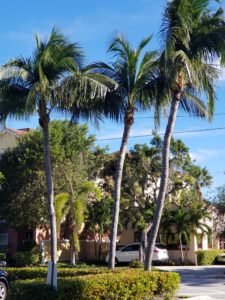 I didn't think living in South Florida for five years would make me forget what it means to dress for the cold, but I have. I'm still struggling to remember to layer clothes at all times regardless of whether I'm in my house or prepping to take the dog out for a walk.
But I'm sure I'll get this down soon. I was born and raised in a place that had winter and I can learn winter again.
Let's get back to South Florida for a moment. I'm sure there are plenty of people out there who are so tired of snow and the cold. I've been lucky in Colorado that winter is still a sunny affair. In Cincinnati, where most of Unbreakable Bonds and Ward Security take place, winter is a gray and overcast affair. We would typically say goodbye to the sun in October and not really see it again until about March or April.
Not surprisingly, winter in South Florida is also a sunny affair. And if you've read Something About Jace from the Pineapple Grove series, you might not realize that Pineapple Grove in the book is actually based loosely on an area where I lived and worked for five years.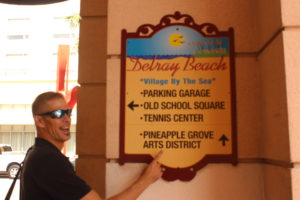 So let's escape the brutal winter cold and overcast skies for a little while and enjoy some South Florida sun while we walk around the real Pineapple Grove for a few minutes.
For this last walking tour before we moved, I dragged my husband along. I might have bribed him with Sunday brunch, but brunch in Delray Beach is a wonderful thing and it wasn't much of a sacrifice on my part.
The real Pineapple Grove is known as an Arts District. There are several art galleries around as well as lots of murals, which I'll show you in a bit. Pineapple Grove is tucked inside of a wonderful little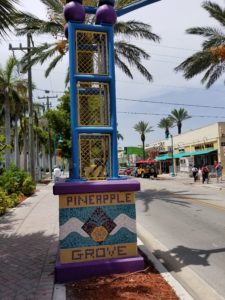 beachside town called Delray Beach. It's got the trendy little shops and lovely hotels, but I fell in love with its amazing selection of restaurants. My husband and I ate very well while living near Delray Beach.
Delray Beach is also known for its influx of snowbirds. It's a seasonal town. During the summer (when the temperatures are unbearable), the area is a ghost town. But during the winter, people flock down from the northeast and Canada to enjoy the sun and warm temperatures. As a result, most of our festivals, fairs, and street parties happened during the winter. And these people love to eat and drink.
Pineapple Grove and Delray Beach are great places to wander because you never quite know what you're going to see.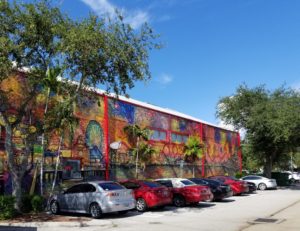 One of my favorite things is the murals that you encounter around almost every corner. I love the mural that runs all around the Silverball Pinball Museum. It features a boardwalk style carnival with fireworks lighting up the sky. It's one of the biggest murals and definitely one of the most colorful
If you've read Something About Jace, it shouldn't be too much of a surprise to discover that the murals heavily influenced our story because they are so much a part of the area.
Oddly enough, one of my other favorites is the Space Pug.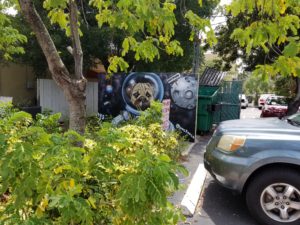 I passed this little one a number of days when I was walking from the parking garage to the dayjob office in Delray. It's just a cute, silly little mural, but it made me smile each time I passed it.
I hope that you enjoyed this walk through Pineapple Grove. And if you haven't tried Something About Jace, I hope these pictures have inspired you to give it a try.
Also, don't miss out on the FREE novella Drew & Mr. Grumpy that goes along with the Pineapple Grove series. The novella is free for only a limited time. Don't miss your chance to grab it up!
.