The long wait is finally over. It's time to get your hands on some more Jude and Snow!
We are happy to announce that Fracture, book 6 of the Unbreakable Bonds series, is now available in both ebook and print.
If you've not caught what this book is about, here is a quick description: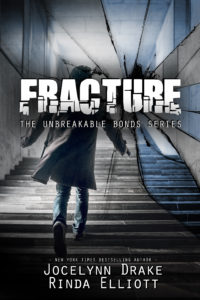 After three years, Snow and Jude's relationship is still passionate and strong. They're getting ready for a romantic vacation at home when Jude receives a horrifying call no one wants to receive. His youngest brother was found barely clinging to life. While Jude's family is rallying around Jordan, Jude is determined to find out what happened to him.
Snow and Jude follow the clues, investigating a side of Jordan's life none of them knew about…and is far darker than any would have believed possible. They get pulled deeper into the seedy side of life, while echoes from a past Snow thought he walked away from return to offer an unexpected insight into the cause of Jordan's injuries.
But someone else has noticed their involvement and is furious, putting them both in danger. The risk is high but so is Jude's determination to find the truth—though the knowledge could very well fracture his heart.
Trigger Warning: This book has a scene that some might find triggering, but the triggers are also spoilers to the plot, so they can be found at the front of the book.
If you're still relatively new to the Unbreakable Bonds universe, click here to see the full reading order of all our books.
It was a great adventure to head back into the Unbreakable Bonds world after the long break. We get the chance to see Lucas and Andrei settled in their new, married life as well as visit with the other main characters from the series.
And we have even more good news… we will soon be starting work on the second Rowe & Noah book! Stay tuned for more details on all our upcoming projects. Also, be sure to sign up for our newsletter so you don't miss any of our books!