Do you love audio books?
Well, I've got some fantastic news! Shatter, the second book in the Unbreakable Bonds series, is now available in audio!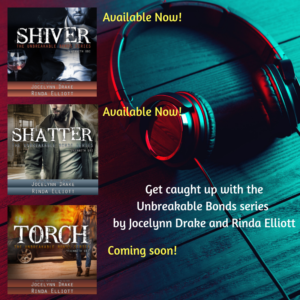 We are steadily working our way through the Unbreakable Bonds series. Currently, Kenneth Obi and I are working on getting Torch completed, and we're hoping to have it finished before the end of May. From there, we'll pour straight into Devour.
There have been some questions as to whether we are going to do the short story collections. Right now, I have to say…probably. We are still working out the details and how we're going to bundle everything together.
Our priority is to get the main novels done first. By the time we get caught up through Fracture, we'll likely have both Killer Bond, the new Ward Security book, as well as the next Rowe and Noah book out. (If you missed out on that news, be sure to catch up on our plans for upcoming books here.)
If you haven't started listening to the Unbreakable Bonds series yet, now is a fantastic time to grab Shiver and Shatter.
In the meantime, Rinda and I are attending a writer's retreat with some wonderful friends. We've knocked out some plotting on Unbreakable Bonds #7, which will focus on Rowe and Noah. Most of May will be spent working on that book and then we're turning attention back to the lovely Pineapple Grove and a certain bed and breakfast owner who needs fighting a sexy hotel property developer.
To keep up with all that's coming out this year, be sure to sign up for our newsletter. We send one out about once per month and they contact links to new books, news on upcoming books, books that we enjoyed reading, and other fun things that we are excited to share.