Adventure. Explosions. Lies and secrets. Car chases. And hot, sweaty romance.
It's why we all snatch up the classic bodyguard stories.
We like the idea of the big, muscled alpha male sweeping in to keep the client safe, while at the same time falling for the one person they're forbidden to touch. You can't keep a person safe if you're emotionally invested, right?
Oh, but they just can't help themselves.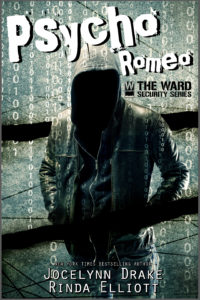 Rinda and I both love the bodyguard trope. It's part of the reason we started the Ward Security spin-off series from the Unbreakable Bonds series. First, of course, is that we love Rowe Ward, his hacker Gidget, and his collection of buff men with hearts of gold.
But when we started the Ward Security series, we knew that we didn't want to just write bodyguard stories. We wanted to explore the entire team at Ward Security. We wanted to see what kind of trouble they could get into and we wanted them all to fall in love!
And when we started writing the series, we knew who we had to start with: Geoffrey.
Lovely Geoffrey started as just an interesting little character in Shiver, but he soon made an appearance in each of the first four book if the Unbreakable Bonds series. After what we put him through, we thought that he'd earned his shot at love.
Psycho Romeo is the story of a stalker trying to get his hands on our internet celebrity. And there's only person the petit Geoffrey will trust to have near him – the mountain Sven Larsen. Geoffrey is a fun handful and he definitely keeps Sven on his toes as they try to uncover who is behind the threats.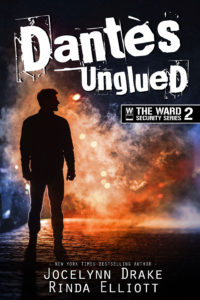 For Dantes Unglued, we turn to Jude's (from Shatter) old friend and former lover, Shane. The private investigator "borrows" Rowe's hacker and IT specialist Quinn Lake to help him with a case. But what starts out as just a little fun on the side quickly grows into something so much more when they find that they complete each other in unexpected ways.
The only problem is that Shane's case is becoming much bigger than he'd expected and is threatening his lover's life. While Psycho Romeo is more of the classic bodyguard story, Dantes Unglued is a twisting mystery of whodunit.
Deadly Dorian shifts back to the bodyguard tale with Marc Foster and brooding, gloomy bodyguard Royce Karras. Marc thinks a family member is trying to kill him, while Royce is struggling with a ghost from his own past. Marc and Royce are opposites in so many ways, but the common ground they find is positively explosive.
Sadistic Sherlock focuses on bodyguard Dominic Walsh as he tries to woo a much older man into giving him a shot at romance. But when he finally gets Abe to even consider him, Dom's old demons roar into town, trying to tear apart the life that he's built.
So, we have: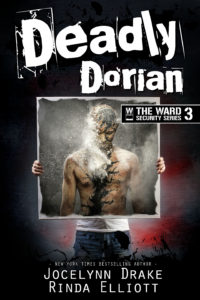 Psycho Romeo – bodyguard
Dantes Unglued – hacker
Deadly Dorian – bodyguard
Sadistic Sherlock – bodyguard
And now, there's Killer Bond, which focuses on … an accountant?
No, seriously, he's a sexy accountant! (I can hear you laughing, but even math nerds need love.) If you have any questions, go check out his picture in the Unbreakable Readers Facebook Group.
Killer Bond starts with some mistaken identity when master spy Edward thinks that our accountant Daniel is a rogue spy. And yeah, things kind of go to hell from there, but in a lot of fun ways too.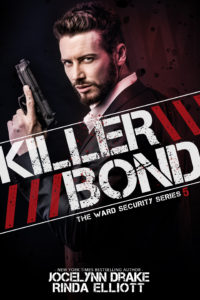 Here's a quick description:
Daniel Hendricks wants a vacation. Ward Security's accountant and resident code breaker just needs a little R&R from the chaos and usual shenanigans of the office.
But what was supposed to be a sexy vacation hook-up explodes in his face when he's mistaken for a rogue secret agent.
Now he's on the run with CIA agent Edward Raines from Bermuda to Barcelona to Paris as they try to find the secrets the real rogue was attempting to sell before another foreign spy does.
The chemistry between them is off the charts, but how is Daniel supposed to trust a man who had originally set out to kill him?
If you haven't started the Ward Security series yet, it's a great time. The first four books are available on audio book as well as ebook and print.
While each book is a stand-alone, if you read them in order, you are able to see the bonds growing between the various members of Ward Security.
Jump into Ward Security now!