Erotic Romance written as Dani Worth
The Kithran Regenesis & Crux Survivors
The Kithran Regenesis

Space Opera Romance Series
Menage/Erotic
"Clay & Anders have this unique type of chemistry. It's like a live wire strung throughout the book just waiting to singe and scorch you to your bones. Well, Siri sees this right away and vows that she owes it to them to find out why they refuse to be together. Gut-punching feels ensue and I die a bit more knowing how wrong it is that they were not always together." From a fun review of ORIGIN! Read the full review here.
"This is the kind of MMF book I love to come across. There's tension building between the guys. Small touches. Significant looks. Angst. It's all building up to the moment they let go. I knew it would be hot and loved every minute of it. These guys are so so sweet when it comes to Siri, also. She needed that after what she'd been through." Full review at Long and Short Reviews.
CATALYST "This is the third installment (and hopefully NOT the last) of the Kithran Regenesis Series. Each one of these book has gotten better and better, so I can only imagine how good the 4th one will be." Lee from My Secret Romance Reviews. Full review of all three Kithran books to come! Catalyst review on Goodreads here. )
Kithra
Replicant
Mutiny-free short story featuring characters from Kithra
Catalyst
Origin
KITHRA (The Kithran Regenesis Volume 1) SAMHAIN PUBLISHING Released 11/15/2011

Spaceship captain Lux Moyans is currently piloting missions for The Company–exploring new galaxies, searching for the next precious metal. When her second-in-command, Kol Frega, informs her they've been ordered to Kithra, she's furious. A year on an uninhabitable planet? She'll only be flying on supply missions! But the ship–the one Kol designed–is the only one that can withstand the planet's gases…and Lux is one of the few pilots who can navigate the debris fields caused by the explosions that killed most of the planet's Gwinarian race.
Kol is the engineer who originally learned to manipulate the indestructible metal on Kithra, so he and a surviving Gwinarian will be her only company on planet. When they pick up Egan Lothbrun, Lux knows there will be trouble. Already something is brewing with Kol and her attraction to both men would be a problem with anyone else. But Lux doesn't do exclusives. Yet, when she learns Kol and Egan share a painful past, she realizes getting Kithra livable won't be her only challenge. Keeping her heart intact might be harder.
REPLICANT (The Kithran Regenesis, Volume 2) SAMHAIN PUBLISHING Release date 4/17/2012!
When a bounty hunter returns to her destroyed planet on the hunt for an escaped alien, the last thing she expects to find is love.Jarana Gothbrun is the number one Tracker in the galaxies, famous for tagging Replicants—shape-shifting aliens who can take on humanoid forms once they have someone's DNA. She has two more Replicants to catch in her current job, ones who escaped from a high-security prison planet. Unfortunately, one of them is currently on her home planet, Kithra. She hasn't been back since a Replicant kidnapped her and took her off planet prior to its destruction.
Maska is engaged to Erik, who has no idea the love of his life is an escaped prisoner. Or male. When Jarana uses an untested device to force Maska's shift to his native form, it puts him in danger and pisses off everyone on the planet. Her plan to fly in and out with her prisoner is put on hold as she has to deal with the people who've come to love Maska. Not to mention her own grief at the destruction of Kithra…and everyone she loved.
Product Warnings
Contains an angsty and sexy gender-bending alien, a confused, angsty and sexy human and an angsty too-tough heroine. Lots of sexy loving and oh, did I mention the ANGST?
CATALYST (The Kithran Regenesis, Volume 3)–
A woman seeking answers, a younger man seeking love, and an older man seeking revenge must work together to achieve all of their goals…
The Kithran Regenesis, Book 3
Vala Gorun's family was off Kithra when the explosions happened and although she's back on her home planet helping with the rebuild, something she saw all those years ago still haunts her. So she hires a Tracker to find the human man she'd once loved—one she thinks betrayed her in the worst possible way.
In order to stop the search into his past, Jackson Canfield sends space pirates to kidnap the Tracker. He can't afford to be found. Not now, when his revenge is almost complete. Unfortunately, instead of the Tracker, the pirates grab Vala and a young Gwinarian man instead.
Trapped on a pirate vessel with Bastian Sithbrun, a ridiculously attractive but younger man, Vala fights her attraction. But something about the twenty-year-old gets to her… But when the pirates leave them the unwilling guests of the very man she'd driven crazy with her teen crush all those years ago, Vala learns Jacks has been in hiding, working to right a horrible wrong.
Now the three of them must work together to reveal the truth behind Kithra's destruction—if they can control the explosive passion that erupts between them long enough to complete their task.
Product Warnings
A tattooed, broken-hearted heroine discovers M/M/F love is crazy hot when not fighting giant alien lizards or worrying about age differences. And when the senses are narrowed to touch alone behind a massive waterfall? It's scorching!
Origin, The Kithran Regenesis, Book 4
In the race for freedom—and love—there's no holding back.
After fourteen torturous years as a slave on a galaxy roving entertainment ship, Siri carries only vague memories of parents who loved her, Gwinarian food, and her beautiful home planet of Kithra.
When two space pirates burst into her owner's room, the choice they offer her is all too easy: stay and face government questioning about the two intruders, or take a chance and go with them.
Claybourne and Anders had planned to help expose the pleasure ship owner's involvement in Kithra's destruction. But when they happen upon Siri, saving one of the last—and most beautiful—of the Gwinarian race takes precedence.
 Siri tastes freedom long denied…and temptation to succumb to the deep sexual tension vibrating between her and her two liberators. Clay and Anders take pleasure in letting her take the lead in rediscovering the power of intimacy.
But there are more secrets to uncover, and Siri senses that the closer they come to the truth, the closer she comes to the most painful choice of all—to let her pirate lovers go.
Warning: Sexy human space pirates. An acerbic-tongued crew. A beautiful wounded alien woman. M/M/F sparks galore, and interplanetary intrigue.
Post-Apocalyptic Romance Series
Erotic Romance (Some menage, some not.)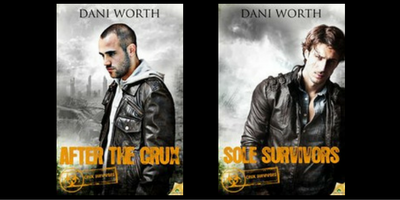 "I love, love, love this series by Dani Worth. It's real post-apocalyptic goodness. Just picture Walking Dead with all the great character development and gripping survival stories but without the zombies." Fun full 5 star review here.
Listed in order, but here's a quick glimpse:
After the Crux (m/m/f) novella
Free short story Silence and Ghosts (Features Ross, Dorian and Jenna.)
Sole Survivors (m/f) category romance length
AFTER THE CRUX (Crux Survivors, Volume 1) Samhain Publishing (MMF)
Purchase Links:
Samhain (All ebook formats available.)
In a lonely, plague-devastated world, it is definitely not every man for himself.
Crux Survivors, Book 1
Seventeen years after the Crux Virus wiped out most of the world's population, Ross is doing what he can to keep his small community safe from raiders in a self-contained artist retreat in the Jemez Mountains of New Mexico. He's made a habit of collecting survivors and they've all become family, but the most important members have always been Jenna and Dorian.
At fourteen, Ross stumbled into the basement where the nine-year-olds were hiding and the three have been together ever since. Years later, Jenna and Dorian became lovers. Now, at thirty, Ross hopes to find a love of his own on supply runs, but he suffers incredible guilt because his heart has long been snagged by his two best friends.
Alone with his tangled emotions, Ross is about to discover that his friends have their own ideas about their relationship…and how it is about to change.
---
Product Warnings
An unfortunate stabbing leads to fortunate liaisons, including M/F/M, M/M, M/F…and whatever else these apocalyptic survivors can do with each other during those long winter months in the snowy mountains.
Sole Survivors (Crux Survivors bk #2-full category length M/F romance)
Purchase links:
Samhain (All ebook formats available.)
In a harsh new world, only she can bring him to life…
Sole Survivors, Crux Survivors, Book 2
Chase Hawthorne is on the run from a ghost. The shooting that took his little sister and scarred Chase's face and body has left far deeper scars on his brother Tripp's soul. Driven to pull up stakes and head for the most haunted place in Louisiana, Chase hopes to prove to Tripp there is no ghost of his twin beckoning from the afterlife.
When he comes upon a young woman fighting off raiders, Chase doesn't hesitate to help the first female he's seen in years. And he tries to ignore his instant attraction, hoping Tripp will feel it, too—and emerge from his frightening depression.
Keera has been alone too long, and Chase makes her feel things she never thought she'd feel again. Tripp may be the needier brother, but it's Chase she wants. Scars and all.
But letting people too close comes with risks. And as they are drawn into the search for a young man's family, both must accept the possibility that there's more to life—and love—than simple survival.
Warning: A hero who puts his own needs aside for family. And a woman who's out to prove there's no law against a man listening to his body once in a while.