I have good news.  At last…
You have been patiently waiting.  In the spring, I announced on my Facebook page that I was working on a new project.  A short time later, I announced that I was working with the lovely Rinda Elliott on a new book in an entirely new genre.
Guess what…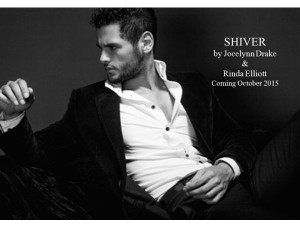 That book is done. It's gone out to the beta readers and feedback is starting to roll in.  And so far, it's been pretty darn good.  Would you like to know what the book is called?  I thought so.
SHIVER
This is the part where you insert a happy sigh on my part.  Yes, Shiver is the first book in The Unbreakable Bonds Series.
The book will be released for e-book on Tuesday, October 27.  We are hoping to release it as a print edition as well at the same time.  Rinda and I are independently publishing the series, so we're working out all the bugs from the process.  This is also the first time that we've both worked with a co-author on a book.
We will be announcing more information and scintillating details as we get closer to the release date so stay tuned.  But mark your calendar down.  You don't want to miss out on Shiver.
To keep up on all the news regarding Shiver and the rest of the Unbreakable Bonds Series, you can follow us on Twitter or Facebook. Also, check out our Tumblr page to see the so sexy inspiration we've been using while working on the Unbreakable Bonds series.
Now it's time for me to get back to work. Rinda and I are working on finishing the last of the plotting and scheming for the second book in the series.  Mwahahaha! I love being an evil author.
Happy reading!