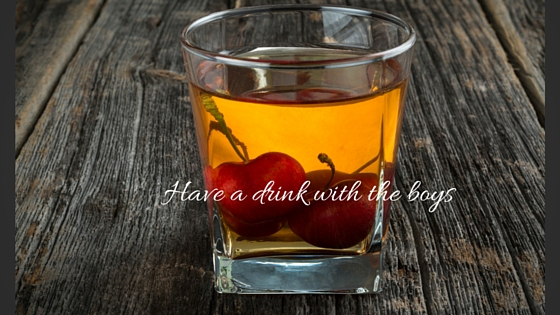 Writing and researching for Unbreakable Bonds has allowed me to wander through a wonderful world and dig around in bit of information that I never expected. The first book, Shiver, got its name for more than being just a delicious physical reaction, but it is also the name of one of Lucas's nightclubs in Cincinnati. (And I simply can't wait for you to visit Shiver.)
But the boys in Unbreakable Bonds spend a considerable amount of time drinking, which got me wondering… if the boys of Unbreakable Bonds were drinks, what kind of drinks would they be?
Now before I begin, just know that these drinks are my suggestions and Rinda might have different ideas. (She can be quite possessive over Snow and Ian, not that I blame her at all.)
Lucas — An Old Fashioned
Smooth and strong, there is something reserved, dignified, and … well … old fashioned about this drink.  To me, it's very much a no-nonsense drink. And while there isn't much to An Old Fashioned, if you can find a true artisan behind the bar, there is a world of difference between an okay Old Fashioned and a great Old Fashioned. I'll admit that when I'm in the mood for some good Kentucky bourbon, this is my poison on choice.
For a non-alcoholic drink — if that's just not your cup of tea — I have to say that Lucas is hot earl grey tea with a splash of lemon.  Again, simple and dignified.
Snow — Sazerac
There is a decadence to Snow, Lucas's oldest and best friend in the world. He's a surgeon and a troubled man, and to escape the hard life he has lived and the pain that fills his work, he is happy to indulge in many pleasures of the flesh. I think the Sazerac is perfect for him, but for Snow, I have to say that it is made with an absinthe wash rather than the occasionally used Herbsaint, Pernod, or pastis.  Sazerac is not a common drink, but it is made with rye whiskey, bitters, water, sugar, but before the final drink is placed in the glass, the drinking glass is coated with absinthe.
For a non-alcoholic drink, I think that Snow is probably Turkish coffee. Sharp, strong and bitter.
(Stay tuned. You'll be learning more about Snow very soon.)
Rowe — Beer
I think Rowe screams beer to me because I can hear him whispering in my ear, I want a beer. Oh, if Lucas pulls out the 100-year-old whisky, Rowe is not going to turn him down. But Rowe is the type to kick back with a beer at the end of the day and flip on ESPN to catch up on the latest sports news. He's the kind of man who makes good money but still wishes for simple things — a roof over his head, a TV to watch sports, good friends, and a cold beer.
I worry because that makes Rowe sound amazingly uncomplicated, and to most of the world he is. He also appears to be a man who has everything. Ever so dangerous when I've got a pen in my hand. But Rowe is a man who is very good at appearing simple, when below the surface, he is extremely complicated.
For a non-alcoholic beverage (and he's now rolling his eyes at me), I have to say he's a coke.  Just give the man a coke and  burger.
(Stay tuned. You'll be learning more about Rowe very soon.)
Ian — French 75
Oh my dear, sweet Ian. You were raised with money and while you have lived a hard life at times, you can't escape your expensive tastes sometimes. Ian is the other close friend of Snow, Lucas, and Rowe. He's an amazing chef with a dark past. Ian loves fashion and great food. And it only seems fitting that he would be a French 75. I have to admit that I've never tried a French 75, but after stumbling across it, I am dying to. Made with gin, Champagne, lemon juice, sugar, and garnished with an elegant lemon peel curl while served in a Champagne flute, it seems a perfect match for him.  More complicated than just champagne and yet still so elegant.
For a non-alcoholic beverage, Ian is a caramel macchiato with an extra shot of espresso.
(Stay tuned. You'll be learning more about Rowe very soon.)
Andrei — Rumbucket
I have debated what drink is perfect for Andrei for days.  He's not a simple vodka tonic and the kick of a Margarita is all wrong for him. And then I discovered a drink since living down in South Florida that I think he would laugh about. It's called the rumbucket — though it might have other names in other places — and it contains banana rum, coconut rum, pineapple rum, pineapple juice and a splash of cranberry juice. It's refreshing, sweet and absolutely delicious. And if you're not careful, it will totally knock you on your ass.
For a non-alcoholic beverage, Andrei is iced tea.
Don't forget that Shiver, the first book of the Unbreakable Bonds series is due out on October 27. (Less than two weeks away!) You can pre-order your copy now for Kindle, Nook, Kobo or Apple.  We'll have more information about a print version very soon.