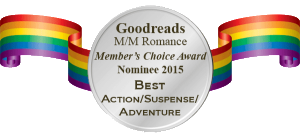 We were extremely happy that SHIVER was nominated for the action/suspense/adventure category in the Goodreads M/M Romance Member's Choice Awards. We were up against some fantastic authors–some of my favorites–so it was truly an honor. The winners were.
Best Action/Suspense/Adventure
1. Crash & Burn by Abigail Roux
2. Hoarfrost by Jordan L. Hawk
3. Fit to be Tied by Mary Calmes
All three are great, so if you haven't read them, check them out! I haven't yet read Hoarfrost, but I have read Jordan L. Hawk and she's wonderful. I'm also a huge fan of both Abigail Roux and Mary Calmes. Both are in my rereads folder for those times I want to revisit favorite characters.
Jocelynn and I are working to get SHATTER done. We should have fun news to share soon, so stay tuned!