Rinda and I are getting down to the final little bits and bobs for Shatter. We've got just a couple short pieces that need to be written and then it's just lots and lots of editing until it goes off to the copyeditors and then it's back to us for more editing.
Recently, I sat down to write a scene and I just stared at the blank page, frowning. Trust me, a blank page has never scared me. But as I sat there, frowning, blocking out the cat, the dog, and the husband in the next room watching Game of Thrones, I realized that I wasn't in the headspace I needed to be to tackle this scene.
The scene was emotionally heavy — definitely not the heaviest of the book but it had some heft to it — and for the most part I'd recently written a lot of action sequences, so my focus in writing was more on the mechanics — the right punch, the right roll, the right dodge, the right lie to sneak out of a tough situation.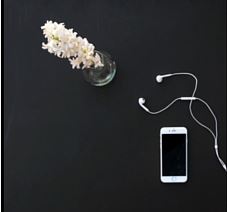 I needed to get my brain to switch gears, and the fastest way to do that was with a new music playlist. With the right song or series of songs, I can get that emotional shift like sliding from first to fifth as you race down the highway, without having to pour through each of the emotional gears — or stalling out. Music can make all the difference.
Today, I thought I'd tell you some of my go-to music when I need to shift into darker scenes or emotionally heavy scenes.
Counting Crows' August and Everything After has been my go-to for the Unbreakable Bonds series, but when I created my new playlist I pulled out "Round Here" and "Raining in Baltimore."
I'm a big lover of Blue October and there are so many to choose from, but I went with an easy one with "Hate Me."
The Cure is starting to pop up here and there recently. For this playlist, I pulled on "A Letter to Elise."
Some old ones that I love for this mood include "Brick" by Ben Folds Five, "The Freshman" by The Verve Pipe, and "I Dare You to Move" by Switchfoot.
And finally, I put in "I Remember" by Stabbing Westward. I don't often put this song into playlists. Actually, I banned it from my music altogether for a few years. Why? Because this song belongs to Mira and Danaus of my Dark Days Series. I'll admit, I wasn't always sure they'd make it when I was writing that series. In that song, I wrapped up all my fears, worries, and dark thoughts about their relationship.
But years later, "I Remember" still puts me in the dark place to write heavy things.
I've still got one last scene to write before I'm done with Shatter. I can't say what it is, but let me give you a glimpse of the bands on that music playlist:
Nine Inch Nails
Korn
Marilyn Manson
Rage Against the Machine
Rob Zombie
Five Finger Death Punch
Shinedown
Yeah, it's gonna be a good one.
If you haven't tried the Unbreakable Bonds series, you can pick up Shiver now as well as pre-order Shatter. Shatter will be out on April 26.