It's finally here! It's release day for the Unbreakable Stories: Lucas collection!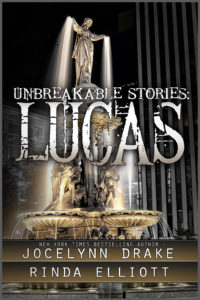 Okay, so the wait hasn't been that long since we announced it back in early May, but Rinda and I are incredibly excited to finally get these new stories in the hands of readers.
I'll admit that this collection all started because of our Unbreakable Readers (our Facebook Group). In the free short story Rinda and I released after Shiver called "Te Iubesc," Lucas invited Andrei's parents to Thanksgiving at Ian's with the rest of the gang. When those words were typed, we didn't give it a second thought.
But readers jumped on that invitation and started asking for the Thanksgiving story.
Trust me, if Rinda and I lived in the same city, she would have seen my blank expression. Thanksgiving story? Really? Should we write one?
Of course, once the seed was planted in both our brains, we started coming up with all kinds of twisted events and silliness that could potentially happen when you get the entire gang together under one roof. And once we got started, we knew this couldn't be just a quick little story. No… this needed chapters and plotting.
In fact, it was starting to get too long to simply read online. We wanted readers to be able to comfortably read it on their e-readers.
And then there was the fact that Rinda and I had secretly written two short stories that we'd never released. We weren't quite sure what to do with them.
So… the collection was born. We packaged the Thanksgiving novelette with the two brand new short stories. And since we were putting this together, we decided to include the free short stories (with a few new tweaks) as well so that readers will have all the short stories in one place.
What do you need to know?
Unbreakable Stories: Lucas is approximately 33,000 words long. (Essentially, a lazy afternoon read). It has 5 short stories and 1 novelette.  The stories are arranged in chronological order and happen after the events of Shiver but before the events of Shatter.
Will there be a collection for Snow?
We don't know yet. There will be a total of three free short stories, just like we had for Lucas and Andrei. You can find all the free short stories here. If readers like this collection, we will consider creating one for Snow after we finish Torch, Book 3 of the Unbreakable Bonds Series.
If you haven't bought your copy of Unbreakable Stories: Lucas yet, you can get it for your Kindle here.