It has been a long wait but it is finally here! It is release day for Psycho Romeo!
Actually, October 27th is an incredibly important day for several reasons.
It's the release of Psycho Romeo – your chance to catch the full story of Sven and Geoffrey.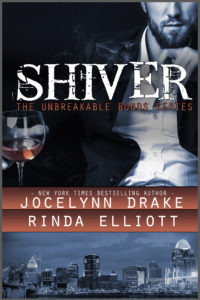 It's the official launch of the new Ward Security series, which we hope has many more books in the future.
And… it is the two-year anniversary of the release of Shiver, book 1 of the Unbreakable Bonds series. Shiver is the book that started it all. It's the first book that Rinda and I wrote together. It's the first book that I've ever attempted to write with anyone. It's my first gay romance. And it's the first book to bring the Unbreakable Readers into my life.
Now… fast-forward two years and we've got five full-length novels out and four short story/novella collections out. And we're already hard at work on the second book in the Ward Security series.
But today is Geoffrey and Sven's day!
Have you picked up your copy?
If this is the first you're heading of Psycho Romeo, here is a quick description: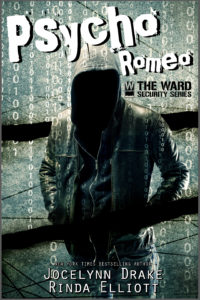 Geoffrey Ralse is known for being the life of the party. He loves the club scene, hanging with his friends, and flirting with whomever catches his eye. He certainly isn't going to stop living his life just because some would-be stalker starts sending him threats.

But it all changes when Geoffrey is drugged and wakes up half naked in his own home with a new message from his stalker.

He needs help and there's only one person he trusts…

Protective Agent Sven Larsen has been fighting Geoffrey's flirtatious advances for months, even though he's impossibly drawn to the man. There's no way he can be around him twenty-four/seven and not finally crack. But one look at Geoffrey's haunted eyes, and he knows there's no way he's letting Geoffrey walk out of Ward Security without him.

Even if it means breaking his own rules, he will keep Geoffrey safe.
Sounds like a lot of fun, right?!?!
You can pick up your copy here:
[button link="https://www.amazon.com/dp/B075QFW9FL/"] Amazon[/button]
[button link="https://www.barnesandnoble.com/w/psycho-romeo-jocelynn-drake/1127125825?ean=2940154556580″] Barnes & Noble[/button]
[button link="https://itunes.apple.com/us/book/psycho-romeo/id1287248865?mt=11″] iBooks[/button]
[button link="https://www.kobo.com/us/en/ebook/psycho-romeo"] Kobo[/button]
In the meantime, Rinda and I need to get back to writing. We are hoping to release the next book in the series this winter!
Happy reading! And happy release day!