Shane Stephens first made an appearance in a very sexy short story in Unbreakable Stories: Snow where he had drinks with Jude and Snow, then danced off with a couple. 😉 Our actual inspiration for Shane is Justice Joslin and we add him to our Tumblr often. Our Shane's hair is a bit darker, but this is the model who fit our "feel" for him the most.
Shane has the ability to stand out when needed or to blend into the crowd, which makes him excellent at private investigative work. He opened The Merleau Detection Agency with his friend, Ethan, and while he originally planned to mostly do their books, he found he was talented at tracking down people and information.
His naturally nosy personality helps.
He's highly sensual and sexual and prefers casual hook-ups. Sometimes with more than one partner. While he loved sex with his ex, Jude Torres, their feelings never deepened into anything more. Jude is a born family man and Shane isn't. Plus, they both shared too many dominant traits to have made it long term. His friendly personality makes him a fun date, but he's never felt possessive over anyone. He has a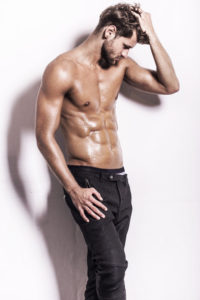 feeling that will change if he ever does fall in love.
Shane is a genuinely good guy who follows the rules. A necessity in order to keep a private investigator's license. He's stable and reliable as a friend. He can also be stubborn and tenacious when he's committed to something. He's good with finances but isn't rich. He put his savings into starting up the PI firm and he's already made it back. He also owns a condo in Over the Rhine that he'd planned to flip. It's quirky and comes with a little something extra that made it hard for him to give up, so he kept it as his home.
His biggest indulgence is the art he collects and he's nuts about his cat, Norma Jean, and his father, Abe. Quinn is about to throw his entire world off.
Dantès Unglued is due to release on January 26th. We don't have it up for pre-order this time–we plan to hit publish as soon as it's ready. Until then, you can catch up with Ward Security #1, Psycho Romeo.
Be sure you sign up for our newsletter so you don't miss the release of Dantès Unglued.