Yes, the rumors are true. Rinda and I have gone back into the Unbreakable Bonds series to bring you the wedding event of the year.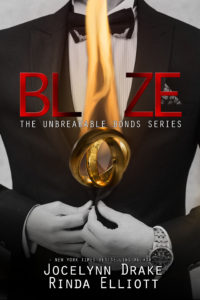 This has been one of the hardest secrets we have ever had to keep. We've been talking about doing a wedding novella for Lucas and Andrei since they were first engaged…possibly even longer. But it was important for us to get the timing right since we were also worried about getting the spin-off series, Ward Security off to a good start.
But we never forgot about our Lucas and Andrei.
When we finished Deadly Dorian, we figured that we finally had an opening to work on the book. The only problem was that the boys refused to be confined to a novella. They wanted another adventure to ring in the nuptials just right.
You know, something with sex and explosions. Maybe a fist fight. Or at least a dead body.
Otherwise, Rowe would have just gotten bored, or up to mischief.
So, Rinda and I are excited to announce Blaze, book 5 of the Unbreakable Bonds series. It is a full-length novel and will be out on Friday, June 22. It is currently up for pre-order on Amazon, and it will be available initially in Kindle Unlimited.
Here is a quick description of the book:
The rings have been selected.

The champagne placed on ice.

The cake decorated.

And the pre-wedding sex is off the charts…

Lucas Vallois and Andrei Hadeon hope you can join them for the event of the year.

There's just one small problem.

A ghost from Lucas's past shows up days before the wedding, desperate for help. Against his better judgement, Lucas and his best friend, Ashton Frost, plan a fast trip back to the one place they swore they'd never go: their hometown in Oklahoma. But the danger is bigger than they expected.

Now, they're in a race to track down a killer, keep a young girl safe, and get Lucas back in time to say, "I do."
Are you ready for some Unbreakable fun? Pre-order your copy now by clicking here.
You can also see our book announcement here:
We hope you enjoy Blaze and this jump back into the Unbreakable world.