After what felt like an incredibly long wait…Devour is finally out. Yes, you can get the full details on Ian and Hollis. You will also finally get to find out what happens to Lucas and Andrei after the rough ending of Torch.
It's kind of hard to believe that just a little over two years ago Rinda and I started talking about the Unbreakable Bonds series. It was through the pushing and prodding of a mutual friend that we finally started seriously talking doing a series together. I had written the first few chapters of Shiver, introducing her to the boys. And yeah, like pretty much everyone, she fell in love with Snow. (But how can you not love Snow?!?!)
But that's how the romance started. There were Lucas and Andrei… and then Snow and Jude… and then Rowe and Noah….
The whole time, you saw Ian and Hollis in the background, touching the lives of everyone within the series, just waiting for their turn to shine.
And I'm happy to report that they definitely shine in their own book – DEVOUR.
If you haven't had a chance to pick up your copy yet, you can order the ebooks here:
In addition, you will be able to find print copies at Amazon and Barnes & Noble as well.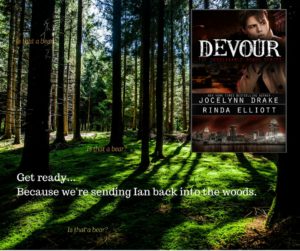 And if you are just now starting the series, the timing couldn't be better. You can go here to Unbreakable Bonds to see the entire reading list as well as links to the free stories. And when you're ready to start chatting with other readers about the series, you can always join our Facebook group, Unbreakable Readers.
But don't worry if you've finished Devour already. Rinda and I have lots of great books still planned for readers. We will be releasing short story collections for both Rowe and Ian later this year. In addition, we will be releasing the first book in the spin-off from the Unbreakable Bonds series, called Ward Security. And if you've read Devour, you've likely seen our announcement of who is going to be featured in the first book of this new series.
Finally, we'd like to thank all the readers, reviewers, and bloggers who have supported us and the Unbreakable Bonds series over the past couple of years. We've had a wonderful time writing these books and sharing them with you. We're touched that you've fallen in love with the boys as well and honored that you have gone on this adventure with us.
We can't wait to share the next book with you.
Happy reading!