Thanksgiving is over.
We've survived the horrors of Black Friday.
It's official. I'm now allowed to talk about Christmas and the holiday season without being ostracized.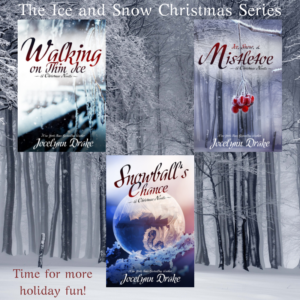 Despite living in a region that never sees snow unless it's on a cone, I do love the holiday season. I love the images of Christmas trees, snow-covered fields, and bulky, warm sweaters. (Sure, I'm sitting here in shorts and barefoot right now, but that's just South Florida.)
December means trips to the ballet to see the Nutcracker. It's decorating with colored lights. It's soooo much shopping. And it's hanging out with family and friends.
It's also the time of year where we all tend to believe in magic. It's a "magical" time of year when we want to believe that anything is possible and we can all find love.
And it's part of the reason that I write my Ice and Snow Christmas series. The novellas are a tad bit sweeter than I usually write, but they are fun books about finding love over Christmas.
The first book is WALKING ON THIN ICE, and it's about billionaire Spenser Roland bringing Evan Scott to Christmas as his fake boyfriend to meet his loving and somewhat crazy family.
The second book is ICE, SNOW, & MISTLETOE, and it features Spenser's best friend John and his second chance at love with the one that got away.
And the newest book that came out yesterday is SNOWBALL'S CHANCE. It features Evan's friend Adam as he's forced to work with his office nemesis Jason on a major project.
Here's a quick description:
Christmas is a time of love, second chances…and getting stuck on a project with the one coworker who drives you insane.

Adam Reynolds loves working as a graphic designer for Roland-Wainwright, but he could do without being tied to so-called marketing genius Jason Edmond. The man might know his way around a campaign, but he's boring and far too demanding. Though, Adam has to admit that the man is incredibly sexy and maybe there is a little mystery about what he does when he's not wrapped in his form-hugging suit all day.

Jason ecstatic to be selected to work on this unique marketing campaign for Roland-Wainwright, but he's not looking forward to dealing with Adam's know-it-all attitude. Okay, so maybe the guy creates visually stunning graphics that are so far ahead of his peers…and maybe he is occasionally distracted by Adam's sinful mouth.

Jason and Adam must find a way to work together to complete the campaign without killing each other. And if they succeed, the prize at the end stands to change both their lives in ways they never imagined.
Each novella can be read as a stand-alone story and now is a great time to start reading. All three books are in Kindle Unlimited. You can find the entire series here.
When I originally started this series, I was planning it to be only three books. However…there's a character that we meet in Snowball's Chance that is now calling to me. I haven't decided if he's getting a book yet. I probably won't make that decision until July — when I usually start writing the Christmas novella each year.
Happy reading!